TLC Day Care Center, June 22nd, 2001
We were invited out to the TLC Day Care Center in Sewell, NJ on June 22nd, 2001 to talk to the kids. The kids ranged in age from 4 to 10 years old. The group of about 30 kids had such a great time.
Bob and his boy Shadow shared with the kids about the joys and sorrows of Siberian Husky Ownership. Then Zen led his mom and dad (Judy and Harvey) on talking to the kids about Rescue. Since Zen was a rescue dog and has found his forever home ... he could easily relate to the subject to share with the kids. Rudi and his mom (Paige) gave lessons on how to properly approach a dog.

Rudi then got an extra special treat from each of the kids ... as they each gave him a piece of hot dog! Even after all those treats ... he still wanted more!

The kids even had a chance to share their Siberian Artistic skills! Each one did a Color Me Sibe!
Previous Event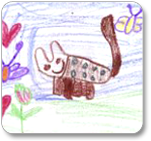 February, 22nd 2001
Sunnymead Elementary