All Day Activites and Vendors!
Come out and enjoy the day with us from 8:30 am to 3:00 pm. We welcome every dog, every size, every shape to join us. There are many activities to participate in besides hiking. Games, food, vendors and so much more!
All Day Activities
Scheduled Events
Shop with our Vendors
Register Today!
Get your goody bag today! Comes with a t-shirt for you, treats for your pup and a few more surprises.
Register Today!
Watering Hole
Don't forget to stop in at the Doggie Dip Area... come on over and take a dip at the Doggie Pools! This is where all the COOL DOGS hang out! The pups can hang out by the pools and get their paws a little wet and enjoy some husky smiles! It is sure to be a refreshing stop for your pup after their hike on the trails!
Hungry, Grab Some Grub
Food vendor to be determined.
Foster Dogs - Check them out or take one on the Hike
We are asking for a $5.00 donation to walk one of our foster dogs.
Check out our current foster dogs! Hikers who wish to walk one of our foster dogs must present a valid photo ID and must be 18 or older. However... dogs can be walked double lead (two leads attached to the dog, one held by an adult and one by a child.) We only have a limited number of foster dogs available to be walked - this will be on a first come first serve basis at the Foster Check out tent.
Memorial Candles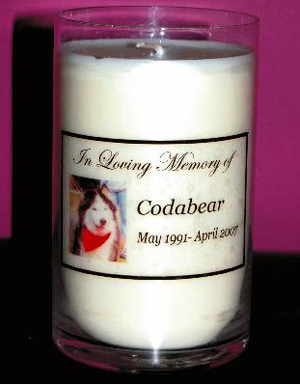 Pay tribute to a beloved departed animal with one of our memory candles. Each candle is approximately 6" X 3" and includes your pet's name. Your candle will look similar to the one shown in the picture. Candles will be on display at the registration booth and then after the hike, the candle is yours to take with you. We are accepting orders now to have the candles prepared in advance of hike day. Cost of each memory candle is a $20.00 donation to the rescue or $25.00 if you'd like a picture added.
Reserve Your Candle Today!
Silent Auction
Announced throughout the Day
We have many items available for the silent auction. Buy your tickets, and place them as you wish in the cup(s) for the item you wish to win.
Tickets are: $1 Each, 6 for $5, 15 for $10.
Here is a sampling of some of the items that will be available:
Dog Toys
Dog Treats
Throw Blankets
Husky Painting
Many More Items
12" x 12" x 12" "Color Me! Folding Ottoman
Husky purse
Flyers tickets
Hatchimals
Minions
Winners will be announced throughout the day - the first round after the alumni parade, the second round at approximately 1:15 pm, and the remaining items beginning at 2:15 pm.
The registration booth is open. Check in and/or register to hike. Don't forget to also bring your pledge collections to enter for a chance to win one of our grand prizes and also pick up your pledge incentive gifts.
5K run kicks off first, with the Hike starting immediately afterwards... so join us at the starting line!
Tails of the Tundra Alumni Parade
11:15 am
Are you planning on attending this year's hike and have a rescue that falls into one of the following categories: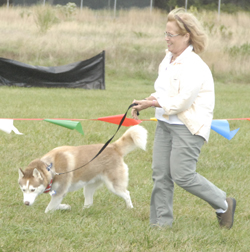 - Adopted a dog from a Tails of the Tundra foster home
- Adopted a dog via our owner referral program
- You were referred to a shelter by Tails of the Tundra
- Saw a dog on the Tails of the Tundra Facebook site or website
Then we want to hear from you! This is your chance to let your rescued pup strut their stuff in front of all of their fans! The Alumni Parade will take place in the Main Ring. Each dog will have a moment in the "spot light" as their story is told to all of his/her fans. There is no fee to enter... all we need is some information from you!
Sign Up to be in the Parade!
Canine Games
Starting at 12:30 am and continuing throughout the day
The Annual Pluck-Off
Team up with your Husky and let's see who is the best plucker out there! You have 1 minute to just PLUCK IT!
Musical Sit
When the music stops the dogs all sit. Last one to be sitting... is OUT. Then, like musical chairs you learned in grade school you keep going until there's just ONE dog left!
Ice Cream Eating Contest
Let's see who is the Fastest Ice Cream eater in the East: On your mark get set.. eat that Ice Cream. Contest starts at approximately 2pm.
Biscuit Find
The nose knows! Which dog can find the biscuit under the cones?
Silent Auction Winners Announced
Announced all day, Last announcement at 2:30 pm
Come see if you've got a lucky ticket!
Come on Out to See, Do and Shop
Visit the many vendors present providing a wide variety of merchandise and services for all dog lovers.
Our success depends on the generosity of our vendors. They help support our foster homes and the furever homes of previous foster dogs by providing quality products and services. Please visit our vendors' websites and thank them for their support.
More to Come...
Check back at a later date as more vendors sign up.
Want to be a vendor?
Come join the fun! Reach hundreds of dynamic and influential dog owners.
Be a Vendor
Silent Auction
Don't forget to participate in our silent auction. With lots of items to choose from you'll be coming back for more tickets to make your bids!
Silent Auction Details
Conneck-A-Pup
Their job is to make dog walking easier for you, have your pup look his best and provide you with a dog leash to fit your personal needs that you can be proud of! Custom hand made designer Dog Leashes!
Visit their website >>
Lindy Communities
We own and manage two pet friendly appartment communities in Warrington. We even allow large breeds - including Siberian Huskies!

Visit their website >>
Tails of the Tundra Merchandise Booth
Offering a wide variety of stuffed huskies, umbrellas, t-shirts, and other husky collectibles!
Tails of the Tundra - Husky Essentials
Looking to participate in some fun dog sports? We have the gear you need... Dog harnesses, lead lines, collars and much more.