These dogs have strayed away from their homes. Please contact the person listed if you have any information which may help them bring their pet back home. You can click on any of the photo's below to view a larger image.
If you have lost a dog, you are welcome to list the dog here. Please email us a picture and description of where the dog was last seen. Also please view this helpful tip sheet to help you locate your dog.

Help us find Celine. Visit our Facebook site for more information.

NAME: Dakota - red and white, blue eyes, Female, about 45 pounds
LAST SEEN: Broke through our fence on Friday May 12th 2011 between 7:30 and 11:20.
DATE: 5/12/11
CONTACT: Please call 302-437-5611 with any information.
We live in Todd Estates II. She may still have a collar on (she has gotten it off before) and is micro-chipped. We all miss her very much including our other siberian!.
NAME: Polar
LAST SEEN: Hellertown, PA (Northampton County. We are close to Bucks County, also.)
DATE: 3/15/11
CONTACT: Call 610-838-9659 or 610-844-3929 - Brooks Weirbach
She is micro-chipped, but has no collar on.
NAME: Max
LAST SEEN: Harrisburg, AR
DATE: June 2010
CONTACT: Email horsegirl8862@yahoo.com
I have lost my male black and white husky with blue eyes. He is about 2 to 4 years old and he has been missing for 6 months, but were not giving up! He went missing in Arkansas. Please email me at horsegirl8862@yahoo.com with any info!
NAME: Max
LAST SEEN: Richland, PA 17087 (it is in Lebanon County Close to Myerstown and Newmanstown)
DATE: 3/14/10
CONTACT: Call 717-305-0728 or 717-721-5775 - Kristy Smith
His name is Max and he has been missing since 3-14-10. He is black and white with blue eyes. He is about 70 lbs..
NAME: Nanook
LAST SEEN: Deer Lake, PA
DATE: 12/5/08
CONTACT: Call 570-366-0540 - Don and Darlene Behler
Wehave contacted several SPCA's in our area over and over. Huskyrescue-Police-Game Commission-Ads in several newspapers. SearchedCraigs list and many other online lost and founds. Spent many many hours walking corn fields and woods and actually climbed the side of a mountain (all in close to 0 degree weather) searching anywhere there was word of a possible sighting. We miss him greatly!
Fearing at this point that he may have been shot while chasing deer. Hoping someone found him and is taking good care of him until his return.
This is Nanook. He is 1 year old. Neutered male. Yellow flecked eyes. Grey white.
He dug under our fence with his 2 Husky pack mates. They all escaped on 12/5 from Deer Lake, PA.. We recovered 2 of them.
Nanook is still missing.
Reward!!
Call 570-366-0540
Don and Darlene Behler
NAME: Nanook
LAST SEEN: Brooks Mountain, WV
DATE: August 2008
CONTACT: Holli 304-466-6318
Nanook is a neutered male with one blue and one brown eye wearing a green collar. He was last seen with our young female golden retriever lab mix near Brooks Mountain, WV. Please call 304-466-6318 with any information about these dogs. Reward for his safe return.
NAME: Riley
LAST SEEN: Big Bear Drive, East Stroudsburg, PA
DATE: July 24, 2008
CONTACT: Call James 570-236-8850 or Billie 570-688-6747
Riley is a 1.5 year old black and white female with one blue eye and one brown eye. She broke free from her collar and escaped from her home in East Stroudsburg, PA on July 24th. She is very friendly. Her family misses her terribly. Reward for her safe return. Call James 570-236-8850 or Billie 570-688-6747.
NAME: Tashi
LAST SEEN: Last seen going into lower end of Thompson Run in Althom PA. Althom is between Tidioute and Warren PA
DATE: May, 2008
CONTACT: Pam and Paul Hendricks 814-484-7213 or 814-484-3615
Please contact Pam and Paul with ANY sightings. Click here to download Tashi's Poster.
NAME: Kiko
LAST SEEN: Monroeville, Murrysville, Plum Boro area of PA
DATE: January 2008
CONTACT: Call Cody at 303-968-7144 or Polly at 412-417-6457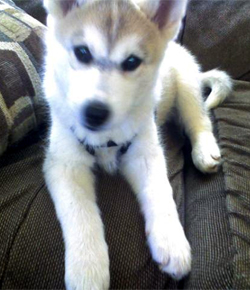 His name is Kiko and he is 6 mo old (younger obviously in the pic but best pic available) He was lost in the Monroeville, Murrysville, Plum Boro area. Specifically near the Rita's Italian Ice on Rt 286 in Monroeville. He headed into the woods towards Murrysville. He was wearing a harness but his tags came off when he broke free. He and his owner just moved to the area a few weeks ago. Reward for his safe return. Call Cody at 303-968-7144 or Polly at 412-417-6457
NAME: Cyrus
LAST SEEN: MEDIA, PA (South New Middletown Road near
High Meadow)
DATE: January 2, 2008
CONTACT: Paula 610-892-0148
THIS SIBERIAN HUSKY IS PRONE TO SEIZURES AND NEEDS HIS MEDICATION!
Male, Black & White Siberian Husky: MEDIA, PA 19063
(Middletown Township, Media, PA. 19063)
A resident that lives along 352 (South New Middletown Road) near High Meadow has lost a Siberian Husky. He broke loose of his chain with no collar or ID tags, possibly still has a leash attached. He is prone to seizures and takes medication. His name is Cyrus and he weighs 85 lbs and is black and white. If you see him please try to detain him and call his owner Paula 610-892-0148. His owner said he is a gentle dog, however he may be scared so use caution.
NAME: Bunny
LAST SEEN: McMurray/Eighty-Four, PA (south of Pittsburgh)
DATE: June 2007
CONTACT: Sheri sherisk8z@verizon.net
Bunny is black and white with brown eyes. She went missing from my yard in the McMurray/Eighty-Four, PA (south of Pittsburgh) area in June, 2007. Her name is Bunny and she is 4 years old. We are offering a reward for her safe return. We miss her so VERY much. -Sheri & Marlene
NAME: Sage
LAST SEEN: Route 3 near Shop Rite, West Chester, PA
DATE: November 18, 2007
CONTACT: Jennifer sugrgurl182@aim.com
Sage is a 2 year old female siberian husky appx 50 lbs.
black, grey & white coat with a black line down center
of face, rest of face is white. blue eyes. Lost 11/18/07
off of Route 3 near Shop Rite in West Chester PA. She
got off her leash/collar so has no tags on. she is also
not microchipped. Very scared around new people esp.
men. Contact Jennifer Vaughn at sugrgurl182@aim.com

NAME: Blue
LAST SEEN: near Brighton, Michigan
DATE: May 8, 2007
CONTACT: Call 313-550-6095 with ANY SIGNTINGS or email codeblue@woofgang.com
Please help bring Blue home! LARGE REWARD OFFERED WITH NO QUESTIONS ASKED! He is microchipped and his home misses him dearly!
NAME: Lightning
LAST SEEN: Route 29 and Smiths Pond Road, PA
DATE: March 10, 2007
CONTACT: Barb 570-674-7752 or 570-574-7096
Spaztitus1@hotmail.com
Lightning had help escaping a dog run. His brother was found – but where Lightning is – we cannot find. He is a very friendly dog – sometimes shy. My children are desperate to find their other "boy" PLEASE call if you see him or are able to capture him. We miss him terribly!
NAME: Juneau
LAST SEEN: De Pere, WI
DATE: May 5, 2006
CONTACT: Peter at 715-493-0798
Juneau was lost in De Pere, WI on May 5, 2006. He is a 5 year old neutered male husky/mal, grey and white with bi-eyes (one brown eye and one blue eye), missing a right upper canine tooth. He is friendly toward humans, aggressive toward other animals, fear of veterinarians.
If you have any information about Juneau, please contact Peter Hodkiewicz at 715-493-0798 or gourmetpete@yahoo.com.
NAME: Airisis
LAST SEEN: Cape Coral, Florida
DATE: May 14, 2006
CONTACT: Lissett (786)301-1630 or (239)283-0952 lissetjolis@hotmail.com
Her name is Airisis, she is around 5 years old, spayed and microchip. She is gray and white with blue eyes. She was wearing an electric collar and her ID tag attached to a long blue leash, that she always wear in case she escapes. She is very friendly. If you see her please call me at (786) 301-1630 or (239) 283-0952. There is a reward for her safe return.
NAME: Nana
LAST SEEN: Upper Darby, Pennsylvania - Ruskin Lane near Long Lane
DATE: July 15, 2005
CONTACT: 610-842-1822
Nana is a small red and white Siberian Husky. She has more of a black/gray and white coat though, 2 blue eyes, she is sick and needs medication. Her owner is in Iraq right now and we need to find her before he comes home. If you see her please contact 610-842-1822.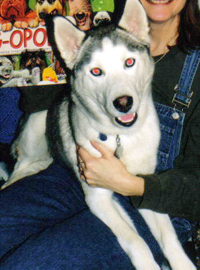 NAME: Remis
LAST SEEN: Johnstown/Caroga Lake area of Upstate NY
DATE: May 26, 2005
CONTACT: Rebecca rebeccaforrest44@yahoo.com
On 5/26/05 my Siberian Husky named Remis ran away and was last seen in the Johnstown/Caroga Lake area of Upstate NY. He is a grey and white neutered male with blue eyes. He is very friendly and in good shape, so he could have jumped in someone's car or ran very far. We are desparately trying to find him and are ever trying to expand our search area. We really miss him and are offering a $500.00 reward for his safe return. Rebecca Forrest (518) 835-3038 or (518) 943-0227.
NAME: Thorin
LAST SEEN: Frederick County, MD
DATE: May 20, 2005
CONTACT: Sandy SHanthony@adelphia.net
Thorin is a nine year old netured male Siberian Husky. He is black and white his left eye is blue and his right eye is brown. He weighs about 80 lbs. He was wearing a blue collar that says "Thoring 301-831-9422" on it and an electric fence collar when he was lost. He is a very friendly dog and is especially fond of tuna fish and salmon. If you see him please contact Ted and Sandy Anthony at 301-831-9422 or 301-639-6020 or SHanthony@adelphia.net.
NAME: Tank and Grizzy
LAST SEEN: Wellington, OH
DATE: August 1, 2004
CONTACT: Hardy 440-647-0353
These two brothers vanished from Wellington, Ohio (Lorain County) on August 1, 2004. They are almost 3 years old, neutered and very friendly. One is red and white the other is black and white with bi-colored eyes. They are dearly missed. Hoping and praying for a miracle. If you have any information about them, please contact Hardy at 440-647-0353 or Erhard.Hartman@grc.nasa.gov.
NAME: Sophie
LAST SEEN: Cedarwood Court, Sugarland, TX
DATE: August 28, 2004
CONTACT: Doris Esquivel 832-338-0622
Sophie is a female, one year and one month old. Color black and white, blue eyes. Black around the eyes, white paws, black back, tip of tail white. Black on the forehead with unic shape. Ran away on Saturday about 6:00 p.m. We have posted flyers and contacted nearby vet's. Will contact the city of Sugarland first thing this morning. Our address is 1802 Cedarwood Court, Sugarland Texas. Phone Numbers are 281-494-5349 cell number is 832-338-0622. Email Doris esquivelenterprise@earthlink.net
NAME:
LAST SEEN: Youngstown, OH near Mill Creek Park
DATE: March 6, 2004
CONTACT: Clara Marshall 330-793-0708
We lost our Siberian Husky on March 6, 2004. She is a female, blue eyes, black/white some silver, weighed around 70 pounds, very friendly, spayed, no collar. On the inside of her mouth she has a black "freckle" on her lower inside gum next to her teeth. She escaped when front gate opened. We live in Youngstown, Ohio near Mill Creek Park. If you have any information about her, please contact Clara Marshall at 330-793-0708 or wmarshal@neo.rr.com.
NAME: Yareena (Reena)
LAST SEEN: Harrisburg, PA near PetsMart on Derry St.
DATE: March 18th, 2004
CONTACT: Flo and Mike Smith at 717-564-5432
Reena is a black-and-white husky with a black mask around her eyes. She was last seen at the park in the area of 50th and Derry Street in Harrisburg, PA, very close to the PetsMart on Derry Street. She could be hiding in any of the surrounding neighborhoods around the park. If you have any information about this dog, please call Flo or Mike at the phone number listed above or e-mail Susan.
NAME: Coda
LAST SEEN:
DATE:
CONTACT: Kim at 607-564-1840
Coda is lost. I would appreciate any help that I can get. I love and miss my dog. Please email me or call me with any information 607-564-1840.
NAME: Sabre
LAST SEEN: Westville NJ
DATE: December 8th, 2002
CONTACT: 609-206-7351 or 215-280-0167 or e-mail alf54@prodigy.net
Our Dearly beloved Siberian is missing! Please help her find her way back to us. She dissapeared from our home on Delsea Dr. is Westville NJ. on the evening of Dec. 8, 2002. She is a 2 and a half year old female Siberian Husky, black/white, w/ both eyes blue, spayed, micro chipped, white face(NO MASK) and in need of annual shots and meds. Please take the time to call us or E mail us is you have any information to help her get back to her home. A REWARD is offered for her safe return.
NAME: Rex
LAST SEEN: Gap, PA
DATE: September 6th, 2002
CONTACT: Don Jafolle at 717-442-8836
Rex is a 3-year-old, reddish-brown and white Husky with blue eyes. He has reddish-brown markings around his eyes and along his nose, with a white face and white inner ears. He's taller and more slender than most huskies. He's neutered, 54 pounds, tall and lanky, and was wearing a blue collar with a red and black design. The collar had ID with address and phone, a Lancaster Co. tag, and a rabies tag. His family believes he may have been stolen and sold in the Paradise-Lancaster Co. area. His family is desperately trying to find him, have posted ads in the paper and signs around town, and are offering a reward for his safe return.
NAME: Magic
LAST SEEN: Williamstown NJ
DATE: March 26th, 2002
CONTACT: Gail call 856-740-9628 or e-mail gaby_88@yahoo.com
Magic is a 1.5-year-old, neutered, all white husky male with blue eyes. He was wearing a red collar with no tags and has been missing since March. Child is heartbroken and we love and miss him very much. PLEASE call with information! REWARD
NAME: Keiko (pronounced Kay Ko)
LAST SEEN: Ingrassia Road Area, Wallkill/Middletown NY
DATE: June 16th, 2002
CONTACT: Barbara Conklin call 845-364-3489 or email BACwaya@aol.com
She is black white looking at her from the front. She is gray black down her back. she is not conformation size. She is small for the breed. She is thick haired. She has brown eyes. Two years old and her name is Keiko pronounced Kay Ko... she is loving and friendly. probably quite wiped out by now. She was lost on 6-14 from the Ingrassia road area. The Male dog she left with was found coming over the hill onto route 17M. Town of Wallkill/ Middletown He is full of buck shot. I am so upset.. I can't stop crying. I adore my dogs. My children and I are so sad and lost. Please let me know if you have seen her!
NAME: Otis
LAST SEEN: Last Seen 313 Fredericks Rd. Maine, N.Y.
DATE: Sunday 4/14/02
CONTACT: Call Kathy Breno at: 607-862-0006 Work: 607-798-1200 ext. #8022
Otis is a Husky Mix, Male, Neutered, Red Collar, Brown Eyes, 60 lbs. Reward for his safe return!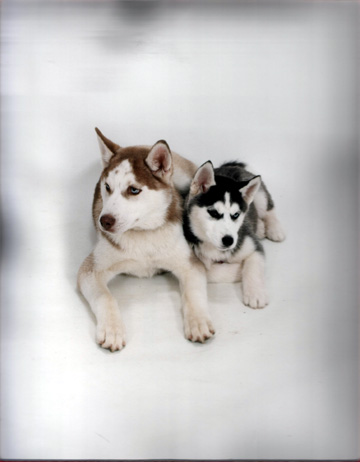 NAME: Dakota
LAST SEEN: Portage, PA
DATE: May 18th, 2002
CONTACT: Sherri Burgan 180 Block Rd. Portage, PA 15946 at tsburgan@adelphia.net or call (814)736-3264.
Dakota was either lost or stolen on May 18th 2002. He is a red and white with blue eyes. He is only 6 months old but a big boy. This picture as taken at 4 months old. Please help us bring him back home!
NAME: Toby
LAST SEEN: Carteret, NJ
DATE: Not Available
CONTACT: Husky House at HuskyHouseInc@aol.com
Toby is a 5-month-old dilute black & white male Husky with blue eyes. He was wearing a black leather collar with tags & he is not neutered. He was stolen from his yard in Carteret NJ and his mommy is heartbroken. A reward of $500 is being offered for his safe return.
NAME: Nikita
LAST SEEN: Acme, PA
DATE: July 15th, 2001
CONTACT: Robert and Debbie Adams at sassyc272@hotmail.com or call 724-593-7866 (if there is no answer, PLEASE leave a message - we will call you back!)
Nikita is a blue-eyed, black and white female who escaped from her yard in Acme, PA on July 15. She's two years old and is very friendly. Her tail is black and white with a red cast on the bottom half. We really miss her and want her back home. We are offering a reward for her safe return.
NAME: Lonesome
LAST SEEN: 7th & Princess, Dawson City, Yukon, Canada
DATE: Tuesday, June 19th, 2001
CONTACT: Julie or Jody 867-993-5835 (eve), 867-993-6937 (days) or j.beaumont@yknet.ca or call the Dawson Humane Society 867-993-6900
Lonesome is a 65 lb female husky cross - 6 yrs old. She is black and white wearing a red collar. ID number "E4E80" tattoed inside her ear (may be faded/covered by fur). She is incredibly friendly and good natured! Lonesome is on antibiotics for an illness and needs to come home! She doesn't look sick but may be moving as though she has arthritis/stiff joints - she can't defend herself and can't move out of the way of cars. If Lonesome's collar has been removed she has an ID tattoo inside her ear (may be faded) - I can also identify other little things about her if there's a need. What's worse is she was let off her lead on purpose - either as a prank, or she's been stolen outright. I'm offering a $200 reward for her return but, honestly, I'll do almost anything to have her back.
NAME: Dimas
LAST SEEN: Harrisburg, PA along Elmerton Ave.
DATE: July 8th, 2001
CONTACT: Amanda at 717-266-2419
The two-year-old girl on the left. SHE IS ON MEDICATION for a serious skin allergy. She has blue eyes and a black and white coat. She had on a purple nylon collar with ID tags, and a purple choker chain. She desperately needs her medication. When she is off her medication, she loses her hair in clumps, has bumps (like acne) on her nose and around her eyes that become crusty and hard, her skin becomes red, and she itches nonstop. Her owner is desperately trying to find her and has notified all of the shelters in her area to watch for her; however, she is terrified that someone has taken her out of the area. If she is turned in to a shelter out of the area before her owner is able to find her, she will likely be deemed unadoptable because of her skin condition.
NAME: Alaska
LAST SEEN: Not Available
DATE: December 5th, 2000
CONTACT: Sigrid at holsers@us.ibm.com
This beautiful blue-eyed, red-brown husky that was taken from my fenced-in yard on December 5, 2000. She was 10 months old. She is spayed. She is a big girl. At 10 months she weighed in at about 50 pounds. She was wearing a blue collar. I miss her. I'm still looking... and would love to see her again. This picture was taken when she was about 5 months old.
NAME: Shadow
LAST SEEN: Stewartstown, PA
DATE: December 31, 2000
CONTACT: Vicki at 717-993-6957 (home) or 717-993-2155 (work) or haw@mail.extreme-endeavors.com
Shadow is a nine-month-old Shepherd/Malamute who disappeared from his yard in Stewartstown, PA on December 31, 2000. He was last seen in his outdoor enclosure, wearing an Innotek containment collar and a nylon collar. He has a current (2000) rabies tag from Hopewell Veterinary Service, and is PA lifetime-license tattoed. Shadow is dark sable with a cream, tan, and silver undercoat. He was orphaned and bottleraised, so he is very people-oriented.