Mercury
The Tails of the Tundra Family
Crossed Over: 12/18/02

Dear Mercury,When you first arrived in foster care, you were a very sweet boy. None of us knew about your past but we were looking forward to your future. When you went to the vet, we think it reminded you of something from your past. It really changed you. We tried, with every ounce of strength we all had, to make your life better. We are so sorry you dear boy, that we failed to do so. We look forward to seeing you when we get to the Rainbow Bridge.
Jack
The Lynn Kruft Family
Crossed Over: 12/02

I picked him up as a 10-11 week old puppy on the off ramp at I-83 and Middletown Rd. It was Jerry and my 15th anniversary. We've never gotten a better present. He was the dog that everyone would love to have - obedient, lovable and smart. He never needed a leash - even on the crowded OC boardwalk - all you needed to say was "stay with us" and he'd stay
by our side no matter how badly he wanted to socialize. Losing him was the biggest trauma in our life to this point. We'll never forget him.
Marlin
The Barb, Andrew and Jayme Family
Crossed Over: 11/10/02

You were my pillow, you were my blanket, you were my shoulder to cry on and my friend to share happiness with. The Collie made you sweet and the Husky made you ornery. But I loved you from the first day at the pound to the last day in the hospital. Your ashes are with me always and your hand painted portrait will remain on my wall with your collar on top. Take care of your little husky brother "Lucky", and your big Rottweiler brother "Sharky" and your little sister "Ono" who were waiting for you at Rainbow Bridge. Your little sister Goldie (Golden Retriever) and little brother Bandit (Husky) still miss you and love you, as I will always.
Teaka
The Dawson Family
Crossed Over: 10/6/02

Teaka's family writes to their beloved friend who crossed over the bridge on October 6th, 2002: Teaka ... to the best friend that I ever had. I miss you so much.
Bandit
The Sue & Mike Nugent Family
Crossed Over: 9/20/02

We adopted Bandit from the humane society. He came to us from an abusive home, yet he trusted us anyhow. The first few nights he was home, he had to sleep on the bed between us. Eventually, he moved to our feet. Then the floor next to our heads was OK. After a while, just being in the same room was OK. The final night he was with us, it was I who went to lay by him. Within his first few weeks with us, he started having severe epileptic seizures. I was so scared, but he just needed medication. Once the dosage was set, he never had another one again. He had no idea how to play or what playing even was. I think we ended up scaring him at first! But eventually, squeakers became his favorite toy. He would prance around with his squeaker gingerly held in his mouth (he had it for over 4 years and never punctured it), and would pounce on it like a cat. He was always able to make me smile, even on really bad days. He did everything he could to please us. We were able to tell when he was naughty though because he would hide in his crate, and when he did come out, his tail and head would be down. But no matter how many times he shredded the garbage, ate food left on the counters (he even got to the donuts I had hidden INSIDE the oven once), or occasionally pooped in the house, I couldn't stay mad at him. He was too cute and would try everything possible to get back into our good graces. He became my best friend, the one who loved me through it all unconditionally. I HATE coming home and finding that he is no longer there to greet me at the door. He was such a momma's boy and everyone knew it, especially me. When I moved from room to room, he was right there with me. He slept on the floor next to me every night and even made sure to sit right next to me every Sunday while I received my weekly shot for M.S. I know we did the right thing because he was sick and no longer himself, but he still gave it his all. He now has crossed the Rainbow Bridge and reunited with his partner in crime, Juneau, so I know he will not be alone. He was my handsome boy and I will never be able to replace him. He was the best dog I could ever ask for and I miss him so much!!!!!! Thank you, Bandit, for being my best friend for almost 10 years. YOU ARE MISSED, BANDIT (3-10-91 to 9-20-02)
Rendezvous
The Tails of the Tundra Family
Crossed Over: 9/11/02

September 11th is a day that will always be remembered. It marks a day of tragedy. A day in which we all stood and watched as we were left powerless to stop the horrible events of the day.One year later, the Tails of the Tundra family felt the effects of another tragedy. Up until that day, we did what we could to help you sweet Rendezvous. Your foster families held you deep in their hearts and tried to love away the years of torment which you had endured. Please forgive us for being only human and not having enough to give you to heal your wounded past. One day we will meet you again at the Rainbow Bridge. We'll all see you soon sweet girl, and we love you.
Bear
The Bertani Family
Crossed Over: 9/4/02

My dearest Bear, you came to us on your last day. They had scheduled your final shot for that afternoon. I'm so glad I found you and you found me. During the last year and a half, you brought such joy into all our lives. You leaving has left such a hole in our hearts. I miss the way you would gather up all your toys in your mouth - the ball, the hedgehog, the rope, and the christmas squeaker, and run up to me and woowoo at me 'till I played with you. If you were outside, you would bounce up and down when you heard my car and bark 'till I came and got you, then run a million miles an hour around the house. I wish we could have had one more walk, one more time at the beach, where you knew I was trying to trick you into the water. Even when your sister, Jada, lept in, you knew it was cold and only waided to your ankles. She misses you. She saw you after you left. She looks for you every time we go to your place. I think of you a lot my friend and I know you're running free like you loved to do the few times you got out. The day you passed I had a dream, before I knew you were gone, and we were playing in this immense golden field of wheat with the ball, the frisbee, and no leash. It was so peaceful. And I know now you had come to me to say goodbye. You left in your sleep on a ray of sunshine. I love you and miss you so much. You will be forever remembered and eternally missed.
Roxy and Ramsey
The Chris and Steve and Tails of the Tundra Family
Crossed Over: Roxy: 9/17/02, Ramsey: 8/20/02

To my dearest Roxy (Roxanne) and Ramsey,
You both started your journey like no other should have. Roxy, you were weaned and sold at 5 weeks of age, not ready to leave your mother and siblings but better off away from the hardships you would have endured at home. Ramsey, you were brought to my clinic with bite wounds to your head that dented your skull and severe dehydration. You came home to your foster daddy and I so that we could get you back to health. You suffered from seizures and high fevers through your 2 weeks with us and passed on 8-20-02. You gave us so much joy and lost sleep in those 2 wonderful weeks. We showed you the love you needed and so much appreciated. You gave us back that love with your small gentle kisses. Your passing was a godsend. There will be no more seizures and no more fevers to cause you to suffer. You were not meant to stay here long, but to receive all the love you could in your short time. Roxy,
You came to us 2 days after your brother's passing, not being allowed in your mother's new home. Daddy and I saw you as a way to help us heal and to finish what could not be done with your brother Ramsey. You had so much more "moxy" than your brother which got you into more than you could handle. You would tackle your foster brothers and sisters (Olsen, Noah, Stasia and Matty) and they would play dead allowing you to pull on their ears and tails. Olsen would come walking into the living room with you attached to his neck and gently walk over to daddy and I asking us to please remove you. Stasia would lay with you at night and clean your ears even when you were still eager to get up and go. Noah your cat brother misses your constant tackles and wrestling. He has been wandering the house all day looking for you. Your foster dog siblings are not themselves and still very gentle in their movements in the house waiting for you to jump out at them. Your "moxy" ended you in the emergency hospital with an accidental bite wound in the chest. We all thought that it would heal with a pressure wrap and medication. What we weren't expecting was the next visit to the emergency hospital to find out why your lung was continuing to fill with fluid. You went to surgery after spending an hour walking and eventually sleeping around my neck. They were optimistic as to you coming home that evening after having chest tubes placed. I was at home awaiting the call to come and get you, the call wasn't what we expected. Daddy and I rushed to the hospital and learned of the hole that had formed from the bruising and fluid buildup. You had arrested twice and had come back. We were there the last time you came back with my lips in your floppy ear telling you I wasn't done with you yet and there were a few spots left on our carpet where you had yet to pee. You looked into my eyes and I knew that you had been waiting for Ramsey to come and guide you. He had finally arrived, you understood that he was much smaller than you and it took him awhile to get there. I also know that you too had to say good-bye since we never said those words to you not expecting what had happened. I know that he came and took you back with him. I want you to know that daddy and I miss you more than words can explain. You left this world not knowing that you were going to be adopted by your daddy and that we had plans for you baby. I know that you're safe and that your brother needed you.
We love you and will never forget what you gave to usDaddy and MommyOlsen, Stasia, Matty and NONOBADKITTYNOAH
Sasha
The Florence Family
Crossed Over: 7/26/02

Sasha was tragically taken from us 26 July 2002 at 8:20 a.m. She had enjoyed a wonderful morning playing with me, my husband and Echo, her male Husky companion. My husband and I were taking the trash out when Sasha and Echo spotted a dog being walked across the street. They broke down the gate and made a mad dash across the street to play. Echo made it across, but Sasha did not. We rushed her to the vet, but there was nothing we could do. You can not imagine how lonely our home is without her. She was only 7 months old and already a big part of our family. Everyone from our immediate family to everyone that had met her loved her. I miss her playful howl and curious nature. We are looking for another Husky puppy to help us overcome our grief. Echo is very lonely. His once playful nature has been replaced with sighs and depression. He never wants to leave my side, even when I go to work. She will always remain in our hearts forever. Outside our kitchen window we planted a pear tree in tribute - that way we don't see the place where she died, but the place where she lives.
Niota and Natoma
The Wendy Trucks and Nanook, Sosha, CheeChee, Shanook, Lobo, Sabaka, Alyeska, Dakota and Inuk Family
Crossed over: 6/23/2002 1/13/2003

Niota, when you were born it was the most breath taking site for me because it was my first time seeing puppies born, and you were the first born. Little did I know how so attached I was going to get as you grew.You watched TV with me you slept with me and you were only a month old!! Yes you were a spoiled one, with those big blue eyes and that devilish look I knew you were going to be my little baby. Then the worst thing that could happen did, a stray puppie with parvo got into our yard, even with your vaccinations you were just not strong enough to ward off the infection. You were only 2 months old and I did everything I could and so did the vets but the infection was just too harsh for your little body. To this day I still cry for you, to come lay beside me and comfort me, I know you know my body is getting worse and I stay in bed now more than I want to. Your mom, dad and brothers and sisters miss you too, I love on them and talk to them about you all the time and I know they understand where you are..at Rainbow Bridge, where you have met your other brother Natoma. Natoma, sweetheart I wish I had seen those mean little boys hurt you. But it all happened so quickly and I am so sorry I didnt see what had happened. You were just a little baby and even though they caused you to leave me and made me cry I hope you can forgive them because they were not raised around love,kindness and attention so they didnt understand that what they did to you was wrong, they thought it was funny. But I didnt and I lost you and it hurt me tremandously. I hope some day you can forgive me too because I couldnt protect you from evil . I love you my little one and I know you are playing and are with Niota and my mom all your new friends you have made and you are happy and trusting once again...at Rainbow Bridge. I will see you all again soon I promise & I love you so much.
Timber Wolf
The Starrs Family
Crossed Over: 5/26/02

Our baby "Timmy", you were the best, funniest, most loving friend we could ever ask for, we miss you so much and will always love you, every day we see your beautiful face peeking from your favorite corner, and we remember all the wonderful years that you gave us. You will forever be our baby "Timmy", We love you, Mommy ,Daddy, Jano, Mike, Roro and "brother" Sebastian.
Marley
The Evertons Family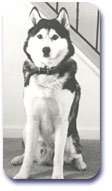 Crossed Over: 4/19/02

Dear Marley, I can't explain enough how special you were to me and how much I miss you. I hope you understand how much I love you and miss you. You were the most special dog and you made a lasting impression on everyone who ever saw you. Your stunning face and gentle fun loving personality--you were one in a million. Your death hit me so suddenly, I was not prepared, you ran around like a puppy up until the last 2 days of your life. I was planning a canoe trip for us on Wednesday and you were gone before Saturday. I had no idea you were sick. I yelled at you to get up because I thought you were being lazy, and like the perfect friend you are you got up--even though it took everything you had. It was then that I realized I was losing you. The tears come daily for me, I still find myself putting up the kid's chicken nuggets so you don't steal them. I hope you realize that I didn't want you to eat those things because they hurt your stomach. Marley, you were my best friend and I am happy and thankful that I was able to spend the last 12 years with you. If I know you, you are having lots of fun---playing with other dogs, swimming across the hudson river after ducks, running in the snow, getting your
belly rubbed, going canoeing and jumping in the river when you see a deer, eating people food, all the things you loved in life. I pray that I will see you again, so we can swim together again, run together again, just be together again. I love you boy. I will never forget you. Love Daddy
Bear and Kiska
Anonymous
Crossed Over: 4/02

Kiska you insisted to get out no matter what I did you jumped out your last time my last words to you was I love you be good! I miss you.Bear I'm sorry I didn't rehome you better It was nice there why did you leave???
Sasha
The Lisa Patridge Family
Crossed Over: 2/27/02

She brought so much joy to our family. We all know she's no longer in pain but the selfish part of us wishes she was still here! Her best friend Daisy is mourning the loss too! Daisy is a three year old cheasapeake bay retriever and had grown up with Sasha. I know the heartache we all feel with lessen with time but WOW does it hurt!!! Sasha you will be greatly missed and always loved!!! You were one of a kind ~ a true gem!!!
Tiger
The Clair Family
Crossed Over: 2/02

Tiger was the greatest dog any family would be proud to have. He was beautiful intelligent and very loving. He had been through so many rough times when he was younger. Tiger always showed us that we were important to him and he always made me feel like I had a best friend even when I didn't have any friends. I could talk to my dog about anything and he would just sit there and listen. If I would go outside and I was crying I would sit on the porch and he would come up to me and nuzzle my arm and would rest his head in my lap till i felt better. After being around him and talking about what was going on and petting him I always felt better. I am really gonna miss him because he was my best friend and my heart is really hurting right now. We love you Tiger. -Momma, Daddy, Shannon, Dana, Walter
Phineas
The Wright Family
In memory of Cognac. To help other huskies find the kind of loving home that he had.