Aurora
The Yturbe Family
Crossed over: 12/8/2003

We already had 3 members in our pack but in the August of 2000 we saw an ad in the local paper, "Female husky desperately needs a home." That husky turned out to be a ten year old girl named Aurora. She had been renamed at the shelter for one of her vocalizations, 'A-rah-rah'. After being with the same family for all of her ten years, she was given up because she ran away once too often. We took her into our home, where she blended right in with our pack but not the cat at first. She had a strong spirit, and like most huskies she was a runner(she escaped from us twice). She was always the princess as her photo suggests. She loved tennis balls, not to fetch but to devour; usually ripping one to shreds within minutes. At night she liked to sleep under my side of the bed. This did stop as she got older as it got more difficult for her.One Friday in December of 2003 she started acting oddly lethargic. Over that weekend her condition deteriorated rapidly. A visit to the vet's office early Monday morning told us the shocking news. She had liver disease and was too far gone to cure. This couldn't be, she'd only been with us for three and a half years. Our only option at that point was to let her go. I'm not sure if she knew I was even there at that last moment. Saying goodbye to her was very hard as she was the first dog I'd lost since I was growing up and the pain I felt that morning lingered with me for weeks. I hope that we made her last three plus years happy ones, making up for the betrayal she must have felt before. I hope there's always an extra tennis ball around just for you Miss Aurora. We'll miss you always.
Caesar
The Northeimers Family
Crossed Over: 7/28/03

Dear Caesar, We didn't have you for an entirely long time. We adopted you from the shelter at the age of 12 and you died at the age of 15. I knew I wouldn't have you as long as I would've liked but the time even if it was short was a time most precious to my heart. I will never forget you and your spirit and zest for living touched our hearts. Your spirit and will to live in the end was amazing. One thing is for sure you didn't want to go, but your spirit wanted to outlive you body. I still remember holding you like a cuddlie white teddy bear. I finally got your pic scanned so I can show everyone what a beautiful breathtaking boy you were. You are never forgotten in my heart and there isn't a day goes by that I don't think of you.
I know I will definitely see your angelic face on rainbow bridge. I know you have met your previous owner up there cause he had cancer and left you but they loved you too. I hope in the midst of chasing all the kitties up there that you will think of me and I hope someday I get to reunite with you to treasure those sweet husky kisses that I miss so dearly here. To see your beautiful blue eyes to hold your beautiful face and to kiss your fluffy cheeks. To see you pounce around bowing like you used to do. Sweetie the day you died I know that you gave me a sign in the sky. There was a cloud that resembled you running letting me know you were able to move again. I apologize for not being able to do more for you in the end except for giving you all the love that I can. I felt so helpless and hopeless that I couldn't end it.
Caesar AKA Newt I love you dearly and we miss you soo much it hurts. We will never ever forget you!
Hugs to my baby
Nikita
The Scott Roth Family
Crossed Over: 12/8/03

You Are Not AloneBy Bobbi Talisman
In times of trouble spirits come together, far and near,
To offer comfort, hope, and love to someone very dear
Whose long-time friend is ailing, injured… somehow not quite right;
To draw a brighter morning from a bleak and lonely night.
The spirits' names are many--family member, colleague, friend--
And each does something special to achieve their common end:
To make a time of worry somewhat easier to bear;
To share a heavy burden; to say, "I'm always there."
So let the spirits' growing power miracles command;
Let the healing energy pour forth from your hand
Into the loving, furry friend whose life you hold so dear--
And know the caring spirits wish you none but joyful tears.
But if your friend is called to leave the cradle of your arms,
To take a place in heaven, evermore secure from harm,
The spirits' work continues, helping you to mend your heart.
And not until the healing's done shall you and spirits part
Shalimar
The Erica Murante Family
Crossed Over: 10/13/03

I love you so much and i can't get over you. I want you back more than you know. I miss you so much it hurts. I have alwasy wante dthe very best for you and would settle for no less and im so sorry I had to put you down but i couldnt watch u suffer anymore. But it doesnt change the fact that I loved you and i will miss you so much, no dog can replace you. You were my puff and you always will be if your heaven please stay with rocco and grandpa till I see you again I know they will take care of you. I cant wait to see you again puff. I love you. Visit Shalimar's tribute.
Ashley
The Bray Family
Crossed Over: 8/8/03

Ashley was a wonderful husky who filled our hearts with love for 14 years.
Nino
The Klein Family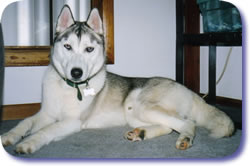 Crossed Over: 7/16/03

My lovely Nino boy. When I first met you in the shelter, I was so upset at the site of that eye of yours! I came back the next day and pulled you to be my foster dog.I had no idea that day of how much you would teach me.We got the eye situated, you had glaucoma and had lost function, but that did not stop you by far!We all laughed as you would take turns around the corner a little too close and bump into the wall, but once again that didn't stop you!You were such a beautiful and serene boy, little did anyone in Tails of the Tundra know, but you were to be my foster failure.You sang such beautiful songs to us when we would tell you "no bite"...what I would do to be able to hear those songs once again.
We had you for a little more than two months when the lump appeared. I had a sinking feeling when I saw it, but tried to stay optimistic. It turns out you had a very aggressive type of cancer that could not be cured, you finally met something that would stop you.We made you comfortable and when the day that I dreaded more than any other so far came, we knew and so did you foster sisters.We all stayed around you and lay with you all day. You ate everything that a dog shouldn't and enjoyed it all!
We had to take you for your last and final ride here on earth and I swear it was the longest 15 minute ride in my life.You passed very peacefully in my arms as I told you how sorry I was through my tears that we couldn't have helped you.You were only about 3 years old and I only had you for exactly 3 months of that time, but it was my pleasure and my honor to love you for those 3 months.
I can't believe it is almost a year since you left us, your picture is still on my fridge and I kiss it often. I know I will see you at the Rainbow Bridge my love, until then please run and have fun with my Shadow who passed before you and get ready to sing me those wonderful songs again!
Lost but never forgotten Nino, you are always in my mind.
Cybyryn
The Jennifer Allman Family
Crossed over: 2/17/03

Though others try to fill the space your leaving me has made. I can't over come the memory

in my mind it's a bridge I'll never cross until the end of time. I say one thing each day.
I thank god for your sweet smile although your not around.
By my best friend never be forgotten.
-Jennifer
Yukon Jak "Grizz"
The Helms Family
Crossed Over: 1/21/03

Yukon Jak dubbed "Grizz" fought a brave fight with cancer and inspired a book in his name called "Grizz's Story" and inspired us to donate all of the proceeds to companion animal cancer research and treatment. His story is one of great courage and the will to live. We followed every avenue trying to beat his cancer while still preserving his quality of life and he bravely withstood every challenge. We were with him every step and in the face of such adversity, he was always there wagging his tail and yodeling "I love you" to us and the people desperately trying to save him. He is and always will be our little 3 legged hero. We will always be proud of you Grizz and we will always cherish your life and your love. You taught us the true meaning of unconditional love. We kept our promise to you when it became too much. Remember sweetheart, you and God had the final victory, not the cancer. Wait for us at Rainbow Bridge. God Bless you and keep you safe. Say HI to Mom for us. She will watch over you until we can be together again. With all our love. Mommy, Daddy and Sarge
Dakota
The Rhodes/Vasquez Family
Crossed Over: 8/22/03

Dakota was a sweet dog. He is missed badly by me and my son, even my birds miss singing to him. At least you are not in pain anymore. We love you Dakota. I hope my mom is with you. I will see you some day my friend.
Vegas
The Heidi Harris Family
Crossed Over: 8/22/03

For My Beautiful Girl
The first day I saw you
Young, innocent and free
You waddled to the front
And said, "pick me, pick me, pick ME!"
I smiled and picked you up
I had no way of knowing
That as you licked my face
It was leadership you were showing!
You'd look at me and squat to see
If I was faster than you
But your four feet were way to quick
So, the newspapers always stayed new!
Teething was a trying time
As your Auntie will attest
But I'd go through it all again
If only you weren't at rest.
Wandering was your favorite thin
gNo gate or wall seemed high enough
If ours was too tall, you'd find a way
To use the neighbor's beside us.
You were patient with all of our moves
And all your new "pack mates"
You adjusted fine as long others knew
Of your stubborn Alpha traits.
You loved each toy you had
But sharing just wasn't for you
If each of you had a bone
You'd always end up with two!
Ah, yes, our times could be trying
But love we shared, there's no denying
I'd do it all again my girl
To see you stand proud and true
If only I could hear you sing
"A woo-woo-woo, woo-woo!"
Scrappy Cat
The Rubin Family
Crossed Over: 8/13/03

Scrappy we miss you everyday... your kiss in the morning and just your presence in the home. May you rest in peace till we see you again. We love you. Sue, Allen, Scott and Kathryn
Gino
The Smutek Family
Crossed Over: 6/24/03

I miss you so much buddy. I'm so sorry this happened to you so tragically and unecessarily. There is not a day that goes by that I dont think of you and miss you dearly. You are always in my heart. (My dog Gino a chihahua was killed walking in our backyard by a hazlet, nj women illegally breeding huskys).
Misha
The Don & Linda Ulrich Family
Crossed Over: 6/4/03

Misha, "Leader of the Pack"Nov 1993 - June 2003
Misha, our first of the "Fantastic Four". With his laid back modified Alpha image he saw no need to rule. He had
the demeanor of a teddy bear, but easily walked with a Presence, Authority and Poise. He challenged the show ring, but had higher self-motivated images in his sights. He was a when the mood struck weight puller, but a true leader of the team. He was an innovator, an anticipator, and best of all, my favorite and my Buddie.
Odin
The Mary, Jan Erica and Jan2 Family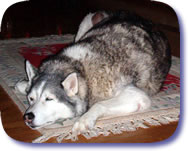 Crossed Over: 2/13/03

Odin never won the best of anything at a dog show, he never pulled anyone from a burning building nor did he ever free anyone from the freezing clutches of an avalanche or the rubble of a collapsed building. Odin was just a normal, everyday dog. He took up space, ate a lot and he left more hair on the furniture and carpeting that we ever imagined he could possess on his entire body, but Odin was our dog and he took very good care of us---he made sure that we got up bright and early for our morning coffee (and co-incidentally his food) and no matter what the weather, he made sure that we got outdoors and exercised a bit. He would even warn us occasionally if someone were lurking outside (usually the neighbor walking her dog but his intentions were good.) He led a long life for such a big dog, and we were incredibly fortunate to be able to share that life with him. He added more to our lives than we can even begin to express in words. We miss him terribly.
Natasha
The Sandra and Douglas Family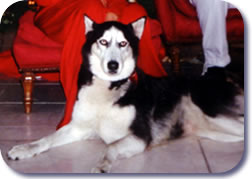 Crossed Over: 4/1/03

She came to us three years ago and soon became the center of our lives. Now we are lost without her, but her spirit will always survive.
To Natasha,
Beauty without vanity
Strength without insolence
Courage without ferocity
And all the virtues of ManWithout his vices
She was our friend
Our partner
Our love.
We were her life
Her love
Her leaders.
She was ours
Faithful and true
To the last beat of her heart.
We owe it to her
to be worthy of such devotion.
Kato
The McLaughlin Family
Crossed Over: 2/4/03

Kato, our Siberian Husky passed away yesterday, February 4, 2003, of natural causes. We're not sure how old he was – 5? 6? 7? 8? Natalie and I had him for three years. We remain grateful to the Siberian Husky rescue people, Scott and Paige Blum and Pat, for taking care of Kato and eventually introducing him to us.
Kato was very recently diagnosed with cancer in the form of tumors in and around his heart. Unfortunately it was not treatable. He also had extremely low thyroid levels (this, at least, was treatable). His symptoms included weakness in his back legs. At the beginning of January he was unable to walk for several days and spent a week in the emergency care section of a local veterinary hospital, The Animal Emergency and Critical Care Service in Langhorne. At that point the diagnosis was tentative and we held out hope that it was wrong, but on January 28 a second ultrasound confirmed that Kato's heart was affected. The variety of symptoms that he demonstrated had several vet specialists scratching their heads. I can't help but think this pleased Kato, who liked to keep a certain air of mystery about him.
Kato was walking again when he came home from the hospital and right up until yesterday – minus a one-day return to the hospital on the 27th - he kept an almost normal schedule of walks in the park, walks in the 'hood, playing with us in the yard and chewing on my arm. He did get tired more easily and liked to stay on his bed and comforter most of the time. The thyroid medication seemed to help him. Natalie and I moved downstairs to be with him at night (anyone who knows Kato, knows he doesn't do stairs) and he appreciated the company. We also decided to go ahead and spoil our boy by feeding him hamburger, chicken, salmon and the occasional hot dog for variety. He even started talking to us again, especially in the morning when it was time to order up a post-walk breakfast.
At Scott's suggestion, we tried adding a flax-seed oil and cottage cheese mixture to Kato's diet. It's an alternative medicine cancer-fighting remedy. I wish it had more time to work, but even though I can't report success Kato seemed to like it, at least sometimes.
Natalie and I feel very lucky to have known Kato and to have had the pleasure of his company for the last three years. He taught us to appreciate Huskies in general and Kato in particular.
Our revels now are ended. These our actors
,As I foretold you, were all spirits, and
Are melted into air, into thin air:
And, like the baseless fabric of this vision,
The cloud-capp'd towers, the gorgeous palaces,
The solemn temples, the great globe itself,
Yea, all which it inherit, shall dissolve,
And, like this insubstantial pageant faded,
Leave not a rack behind.
We are such stuff
As dreams are made on; and our little life
Is rounded with a sleep.
-The Tempest
Haley's Flash
The Lesley Prestwich Family
Crossed Over: 1/16/03

Oh my big boy. How I miss you.
I find it so hard to sleep at night buddy, now that you're not here. We were together from the time you left your birth mom's side. In the early days she would even come visit you occasionally, remember?
We had such fun, you and I. We did everything together. You slept on my bed right up till last year, when your arthritis made it hard for you to jump on the bed. We used to camp in Algonquin together, sometimes just you and me. You saw me through some really tough times in my life, the worst being the death of my infant son. Oh buddy, I hate that you're not still being with me. I hate hearing noises at night and you're not there to reassure me. I really thought we'd be together always.
Your last year with me was unhappy for you I know. You were old, and sore, and along came a baby. I know you felt displaced, but I still loved you as much as ever. I was so busy with the baby and I know some days you didn't understand why it couldn't be just you and me again. Even still, you were so gentle with her.
I saw the pain in your eyes on Jan 16 and we both knew it was your time. We saw it coming for awhile, but I kept denying it and putting it off. I didn't want you to go. But nothing worked for you anymore. You could barely stand. It broke my heart. I stayed with you the whole time you faded off to sleep.
I am so sure you really did come to me in my sleep a couple of days after and tell me it was ok, and let me ruffle your fur and kiss you one last time. It felt so so real. I knew it would be over when I opened my eyes. I tried so hard not to open them and wake because you told me you couldn't stay once I woke up. How I miss you my friend. It was you and me for about a decade and a half. And now it's me and missy K. She misses you so much too boy. I know you didn't think she liked you because she kept pulling at you. But she really did. She looks at your pictures all the time. She knows you were her boy too.
You was, is, and always will be my boy. I love you.