Daffy
The Valentine Family
Crossed over: 12/25/04

Dear Daffy, I didnt get to have you while you were a baby, but I have had the best years of my life. That year, 5 days before chritmas, you wernt feeling yourself. You had dignosed a tumor in your leg on the inside. You were also dignosed with chemotherapy. That made you die 4 days later. I was 12 when you died. But the good thing is that you are in a better place. You lived for 6 years when you were only supposed to live 3. You were a lucky rat and now you live forever in gods hands. God Bless you Daffy. I will MISS YOU. I LOVE YOU. Sincerely, Courtney Valentine.
Nikki
The Ryan's Family
Crossed over: 12/21/2004


We Miss You Nikki! Scruffy had her puppies on 2-35-05 and even though they were four males, we named the fist born Nikki.
Konyak
The The Washko/Perin Family Family
Crossed Over: 12/13/04

My Best Buddy Konyak,You were a handsome malamute,your eyes and markings were so beautiful. You had no life your first year. Someone beat you, starved you and left you to die. Thanks to a wonderful shelter worker, she nursed to back to health. When you came to me I was more scared than you. You did everything you could to torture me. You smashed through the window, chewed the bottom of the crate and destroyed the carpeting, but I promised you were home. You became the most wonderful dog. I gave you the security you needed and you gave me all your love. In the 4 years you had with me I know you were happy. When I was told you were in liver failure the last week we spent together was so hard for me. I know you left me to go to a better place and in my heart I know you had 4 great years, but I miss you so much and I am so sorry that we could not do anything to make you better. At least your last week you had all the chicken and treats you wanted. Mom will see you at the rainbow bridge someday, until then know I love you and miss you.
Bullet
The Laurie Kaplan Family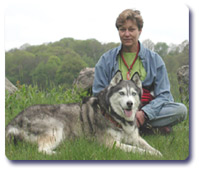 Crossed over: 11/20/04

My precious boy graced my life for one shining moment that lasted 12 years, 2 months and a day. I adopted Bully at 18 months old from a shelter. He was my constant companion, my parnter, my best friend. He survived lymphoma 4+ years and heart disease 2+ years and is known as The Magic Bullet. The Magic Bullet Fund helps dogs survive cancer, it is Bullet's legacy.
Dusty
The Pruitts Family
Crossed over: 9/20/2004

I miss Dusty. I knew her 8 years she was a good friend to me. I know she misses me too. She was a Golden Retriever 15 when she died at the animal hospital with brain cancer.
Ursula
The Tails of the Tundra Family
Crossed over: 9/28/04

You came to us, fearful, uncertain
Your Life was in the balance.
You were beautiful and you won our hearts.
We took you in, with love and awe at your sweetness
We only wanted to help ease the pain. To Heal....

Baby, we didn't know how broken you were,
beyond anything time or this world could mend.
We had to let you go, Our hearts broken as well.

With eyes like rivers rushing to the sea, we
released you with pain and love to that
Sacred Abyss of All Love in Whom all hurt
sorrow and fear find healing eternal.

In Love's tender embrace, all is made well now.
You are free. You are joy. You are Peace,
At long last, You hear clearly now the real
Master's Voice and eager with boundless bliss
you hasten to meet that call, bounding and free.

Run, Baby! Run Wild! Run Free! We'll join you
there on the field at the other side of the bridg
eand Dance together, the Dance of Life with
Love Himself. Forever, Baby. Forever.

We Love you; We always will...aaaaaaahoooooOOOOOOOO!
Yogi Bear
The Klein Family
Crossed over: 5/16/2004

As a foster home for this rescue, we see the worst stories of the worst.Yogi's was one of misfortune, he came into rescue as a young man after being abused and neglected and was adopted out and then returned after several years for no fault of his own. We had a hard time here understanding how after several years anyone could return such a sweet boy at the tender young age of 5 years. We didn't understand it because he was the perfect dog. So I was his TOTT foster home and although he only spent a few weeks here before being adopted again, he taught us so much. Yogi was subject to one of my dogs who didn't particularly like other adult dogs, and took it all in stride. He never started a fight or raised a lip and always stayed right where I needed him to when keeping the two of them seperated. He was the perfect dog.
The day he got adopted I will never forget, it was like it happened yesterday. He met this family with small children and just melted for them, he was asleep and comfortable on thier kitchen floor within the first few minutes of meeting them. He just seemed to "fit." The family lived on a very busy roadway and had no yard...and while I stood out front with other rescue members we were all frightened by this road...it made us nervous in some strange way. So, we drilled this family about siberian safety, doorway safety, we even had them put signs on the doors while we were there to remind the small kids to be careful when opening the doorways. The words we spoke to this family still echo in my head, "if he gets out on this road he WILL DIE."
We wanted Yogi to be safe, he deserved it because he was the perfect dog. I don't know about fellow foster homes, but I always feel a deep sad feeling when I leave a foster dog in thier new home, like they may feel I abandoned them as in many cases they have been abandoned before by previous owners...it is the hardest thing for me about being a foster home. So as with all other adoptions, I felt this guilt in my heart when we left him, even though he looked very at ease and peacefully comfy. Then the call came the very next day after the adoption.....the family called me and said Yogi had gotten out of the back door and gotten hit by a car on the road right in front of the house and he had died. One whole day after being adopted...how could this have happened?
That was one of the worst phone calls I have ever had to take in my life...it just didn't seem real or fair. And my first thought was that he had ran to look for us, his foster family that had left him there the day before...my own guilt krept in quickly. He did not deserve this as he was the perfect dog.
Yogi has since served as a learning story to so many of our adopters to the stories and examples of typical siberian ways, his legacy lives on in the story that we tell all future adopters of just what could happen if they are not super careful everyday.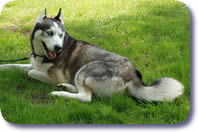 And there is probably not one siberian owner out there that can say they have never had one of thier dogs escape...it is what siberians do....by the grace of God that they were not also hurt or killed. I struggled with why Yogi had to die...what was the reason? The best I have been able to come up with is he died to leave a legacy that would help us educate future adopters with his story for years to come. And as one fellow rescuer and friend said to me who was also having trouble understanding this tragedy..."maybe he died because his time here on earth was done as he truly was the perfect dog."
Gone but never forgotten my dear Yogi Bear....I can't believe it has been almost a year already....
Elsa (Pooh)
The Mathison Family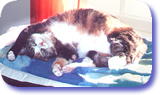 Crossed Over: 5/27/04

Elsa was our earth angel-cat, adopted 20 years ago from Forgotten Felines, a stray rescue group. Sunny pursonality, always a loving lap cat with a warm purr to cheer you up...as beautiful inside as outside. Will be dearly missed.
Alexei
The Quigley's Family
Crossed Over: 5/9/04

My dearest Alexei was a true husky. She dug up my gardens, caught birds in mid flight, climbed fences and darted out doors. She had the boundless energy of a pup her whole life. And a loyality that will never be forgotten. She was our first baby. She had us all to herself for four years. Then as our children were born, she joyfully welcomed them into our pack. She was wonderful and tolerant and gentle with each of our three childern. We shared nine joyful years with her. She will be so missed.
Tundra
The Gutoski Family
Crossed Over: 4/17/04

We miss our beloved Tundra. She would have been 15 years old this June. No one misses her more than me.
A best friend, smart and playful. She acted like a pup last night, jumpimg and happy. She died in her sleep of natural causes. Pure bred Siberian husky, Grey and White. We have one of her pups Nikko, who knows she's gone.
We Love You Tundra! Nick names Tun, Nuggets, Nuggs, Nugeela's and answered to all. Bye Tun.
No one could have a better friend - We love and miss you.
Spaz
The Ludwig Family
Crossed over: 4/19/2004


We only had Spaz for 1 year and 48 days. We rescued him from a local shelter. He was the color of cinnamon and had the most beautiful soul I have ever seen. Being a Husky he was a wonderful companion and protector for our children. Who also miss him tramendously.My 4 year old daughter talks about him daily. We had been told by the shelter that they had recieved a call about a malnurished dog tied to the bumper of a truck. I immediately adopted him. When I entered our home he jumped over the coffee table and landed in my husbands lap. This is how he got his name. 8 months later he started to become very ill. With constant boughts of vomiting and bloody diahrrea. After several tests by our vet it was determined that he had cancer. We did every treatment availible but nothing helped. His disease was just too far progresseed. The shelter had no record on him due to his abandonment. After months of treatments we could no longer let him suffer the pain of his illness. We had him put to sleep. With his last breath, he mustered the strength to look up and give me one of his famous lovies(kisses. A a tail wave. I believe he wanted to be done hurting. I have yet to adopt another dog, for I miss my "Spazzie" so much that it hurts too much to see another dog. I hope that the short time he spent with us, he loved us as much as we loved him. Always in our hearts, thoughts, and prayers. If reincarnation exists I hope he would choose us for we all miss him sooo much. He was loved and is still loved! A dog is not just a dog, but a friend, sibling, 4 legged child,confidont,and even a canine soul mate. Be good to your pups. They deserve every ounce of love you can give them. Even if it is for a short time.
d
Cheyanne
The Bane/Squeo Family
Crossed over: 3/5/2004

Her name was Cheyanne...and she was my Best Friend and Buddy... Her blue eyes and her beautiful face...always greeted me and she even could say..."I LOVE YOU" and it's not a liar...I taught her that...and her howling...was just music too my ears... I had her for 14yrs. and each and everyday was Special... I remember taking her for long walks... when she finally calmed down...but when I first got her...she was 7 months old...and we use too tell people too watch the front door as you know... when they are puppies and getting in the first years... they love too run...and take off...we had a few incidents...too go rescue her...but she was always glad too come back home...and so was I...I miss her each and everyday...and keep her in my thoughts... only wishing I could have another one...but my husband has allergies...and can't be around dogs that sheld alot...(this is my second marriage)... and he feels really bad... but I understand... the time I did spend with Cheyanne was the BEST... I keep our special memories in my Heart...and know..that she is in heaven..(Doggy) that is... playing with her Buddies and one day soon...we will be reunited... Love, Kathy...Jack...Kellyanne...and Shannon...!
Thunder
The April Malicsi Family

Crossed Over: 2/27/04

When I first saw you, I knew that I wanted you. But I didn't know if I could take care of you and I wanted to give you the very best. Of course you were too busy checking out all the other dogs in your pen that you didn't notice me come up. But that's ok. You were always a social butterfly even from the very beginning.
I adopted you at 7 months and you were always a perfect little boy. Your antics always made me laugh and I could never punish you when you at my homework, my shoes, or my clothes. I didn't matter. After a while you stopped and the only thing you went for were my papers. My professors used to look at me and laugh but I always brought the evidence with me and I learned to always safe a copy.
You had just turned 2 and you were almost calming down. A puppy still, but more relaxed and mellow. Then again, for a husky, you were an angel. I know thatyou didn't mean to cross the street. I'm sorry I wasn't fast enough to stop you. I'm sorry we weren't able to bring you to the vet fast enough.
I miss you. I still miss you. And you will always be my first husky. Don't forget me Thun and I look forward to seeing you again when the time comes. I love you, Thun...always
Lahaska
The Leslie Family
Crossed Over: 2/4/04

The hole you left in my life is so much bigger than any you dug in the yard. You were my friend and I miss you.
Pebbles
The Howard/Taylor Family
Crossed over: 1/31/04

My dear sweet Pebbles, born on Jan. 5th, and died only a little more than 3 weeks later on Jan. 31st. She was the light in my eyes for those few short weeks. We have her mom and dad, Sweetie and Bam-Bam, and I had been hoping for a kitten for a while. When teeny little premature Pebbles was born, she was everything to me. I also work in a husky rescue, in Tennessee, and not even my beloved dogs could mess with my kitten. Pebbles was born on my bed, and I discovered her and her mom under the covers first. When I screamed with excitement, my boyfriend Steve thought something had happened and come running. He found me crying with a tiny little wet kitten in the palm of my hand. Pebbles was my baby from there on. Pebbles opened her eyes and the first thing she ever saw in this world was me. The night after she opened her eyes, she crawled up the side of her baby basket, up into my bed with me, and slept on the top of my head in my hair instead of with her mom. She was my angel. The day she died, I went to her basket as usual and spoke to her like i did every morning, and she did not respond. I picked her up, and she was cold to the touch, so I rushed with her in my hand in her blanket to her vet. She died shortly after arriving in my hands, after I told her for the last time I loved her. I miss my baby so much. Sweetie and Bam-Bam had four more kittens a few months later, and now Pebbles' little brother Storm has helped to fill the space she left behind, but noone can take her place. Storm looks so much like my little Pebbles, and has a lot of her qualities, and adores me the same way she did. I think Storm coming along and being the runt and small like she was is Pebbles' way of sending me back a part of her. I see her in her little brother. Now he is my pride and joy, but she still has her own little spot where she was buried in my side yard, with flowers all around her. Storm and I visit her and put flowers in her kitty cat vase all the time. I will see my Pebbles again at the kitty side of the Rainbow Bridge. Until then I will always think of her. -Amanda Howard in Tennessee
Pebblypoo- noone will ever take your place. Mommy and Daddy miss you baby, and I wish your little brothers and sisters could have seen you. You'd have been a great big sister. I love you babydoll, we all do. Your mommy Sweetie, daddy Bam-Bam, dog brother Prince, dog sister MiMi, and your human parents. Love for always, Your human mommy, Amanda
Yukon
The Baker Family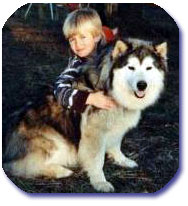 Crossed Over: 2/7/04

For our beloved "Yukon". You was our first, our baby boy. Your the one that got us started in our love for the Siberian Husky. We love & miss you and there has not been a day thats gone by that we haven't thought about you. We know your better off where you are now with no more pain from the arthritis and diabetes that took you from us. Thank you for the years of joy you gave us, you might be gone from this earth but you will live forever in our hearts.
Rocky Bear Bear
The Fritsch Family
Crossed Over: 1/18/04

Our beloved Rocky Bear Bear crossed over on 1/18/03 two days after his 3rd birthday of a grand mal seizure on route to the emergency hospital. Rocky was a friend of a TOTT member that has Yasha and Yuri who are Rocky's brothers. We miss our baby boy and will never ever forget him. There is another star in the sky tonight Rocky and it has your name on it. Your star will shine bright in our hearts and minds forever. We love you Baby Bear.
Love your Mommy and Daddy Rita and Chuck Fritsch and Amanda