Tasha
The Baker Family
Crossed over: 12/24/05

For ten years of your life you were locked in a outside kennel and then locked inside a small crate inside.. day in and day out. I finally decided these people didnt deserve you so I took you in when you broke your crate and lacerated your tongue and ears. The vet found many things (minor) wrong with you.. we got all your meds and I took you on a shopping spree at petco.. god did you love that. I loved you so much and you loved me.. so glad to finally be loved. I know you didnt like to vet but I had to take you to get your ears cleaned... it was then we found you had more inner problems then we knew. You couldnt walk, and barely could open your eyes. But when you heard my voice.. you managed. Even to give me a kiss. But then you laid back down. I knew it was your time. If you remember we already spent 1000$ on you.. and as sad as it makes me I couldnt afford anymore. Plus I feel you were happy to be with me for the week you were. So the vet carried you in, and I l! aid you on that nice soft table. And told you everything that would happen. I stil feel you gave me permission. The last thing you did was lift you head and nuzzle it into my chest, when I held you tightly in my arms and put my face on yours, you gently relaxed. I told you goodbye, you looked at me then closed your eyes. I kissed you one last time and then held you tightly. Telling to bet to go ahead.. and whispering to you " I love you so much , and Im sorry" Soaking your fur in tears. You didnt want me to be sad, I could tell. But I couldnt help it. I fell in love with you within 2 weeks and didnt plan on losing you so soon. With your final breath, I held you close and stayed with you until you were cold. Even then I didnt want to let go. But I had to. So with one final kiss, I left. I even paid extra for you to be cremated, so I can have you in my bedroom. You never were a digger so a hole wouldnt do. I figure a nice urn and you'll always be with me.. watching over me.
Tasha, I had to lay you to rest... but I couldnt afford to pay the thousands it was going to cost... already spending 1500$ in total... and then more for more tests. Plus you didnt want any more tests.. I knew you knew it was time. Your last few days you were with me. And we had fun. Im so sorry you couldnt have stayed longer. You'll always be with me though, in my heart and in my memory. You were MY first dog, and no other dog will take your place. I love you Tasha and again Im so sorry I had to do it. I went home and cried in bed all day.
I love you so much. And already miss you. We were going to go to the park afterwards... but instead I had to put you down. The guilt is horrible. But I do love you so much, and will always miss you.
LadyGray
The Nena R. Wise Family
Crossed over: 11/16/05

For all that she had been through (her original owners..where her tail was broken and whom neglected her 'dry eye' condition), she was "full of heart". While she was a smaller Siberian, she was always brave enough to stand her ground and 'speak' her mind..even to the 'big' Banshey (originally Griz a female the size of a big male). With her dark eyes and white face 'mask', framed in silver, she had a noble look..similar to a Snowy and/or Barn Owl. Add to that the cutest 'flame tail', not curled but straight and tapered like a flame. When she first came to me, her coat was stiff and course. With high quality food and carrots as treats, it became soft and fluffy.
With winter now upon us, I would like to share her love of 'nosing' into snow piles..seeming to seek scents and/or critters. With such an extremely thick coat, winter was definitely her favorite season. After a fresh snowfall she looked like a pewter fluff-ball in a sea of white.
Her calm demeanor allowed everyone to immediately want to cuddle her (as opposed to the other four 'excited and 'in your face' Sibes). This was especially good when all five were invited to a local Elementary school. They not only where a live example of "sled dogs" (the class was following the Iditarod), but also a perfect example how those that look different could still get along (the teacher thanked us for the 'side lesson'). LadyGray was a special Siber-pup. Always sleeping curled by the bed and headboard..just below my pillow. She never had an 'accident' in the house or the townhouse and was a great ride companion..calmly sitting or laying until reaching the destination. It is my belief that her soul is free to play any Siberian games that fill her spiritual heart with happiness. Again.. Thank YOU, Scott, and ToTTs for allowing my life to be enriched by sharing time with LadyGray!!! Those that ever knew her will always carry a warm thought of her, in their hearts :-) Kyrye, Destyny, Banshey, AzureFyre, and I wish to send our best wishes to all "ToTTers" and Siberians.
Wrex
The Hirsch and Mercado Family
Crossed over: 11/3/05

Our dearest beloved Wrex, our son's red and white Siberian Husky with the most beautiful blue eyes! You ran away several times to Mark, our beloved son, and finally the family that had you gave you to Mark when you were a year old. Just a baby! And we all loved you so much. You were the love of our lives. Even though you were 14 years old, you looked so young and healthy. Mark took such good care of you and we (your grandparents) were so lucky to help a little too. The on Saturday 10-22-05, you didn't feel good and Mark was out of town, so grandpa Don and I rushed you to emergency. And 3 veterinarians after that and in just one week and a half, you were gone! Your spleen was enlarged and they said from the ultrasound you had cancer. Then on 11-03-05, 4:03 a.m. on Thursday, you passed at home with all of us with you and Mark, your dad, petting you, and then you were gone, our dearest friend, the love of our life. It is so sad. We miss you so much. Life will never be the same without you dear Wrex. When we looked into your beautiful eyes, we always saw your beautiful soul. God bless you sweetheart. We were all so lucky to have you in our lives. You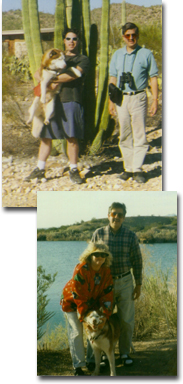 were so special. We are so lucky for Grandpa and I (grandma Sharon) came to live and work with our wonderful son, Mark and you our wonderful Wrex for the last year and 9 months! We hope to see you at Rainbow Bridge and be together forever. You loved to run and to walk. You loved going to work with Mark every day. And you loved going to all the motorcycle races and shows with Mark. You loved our family trip to Canada for 6 weeks last year! You loved to play and you loved your biscuits. You touched our hearts and we will never be the same. And our hearts ache for you, Wrex. But we are grateful you are not suffering honey. We remember you walking, and leaning out the window of the car and barking and howling: ah oh ohing with your beautiful voice. You loved riding in the car. In fact, Wrex, Mark told us when you were 3 years old, you leaned out of the car so far, you fell out on Pacific Coast Highway in Malibu, you did a summersault and landed and you were shaking, but Mark was so happy you were still alive! And we remember when you and Mark came to visit us in Tucson, you and Mark and Grandpa Don loved riding in the gulf cart, and Wrex you loved running on the golf course at night! You were so full of life and so inquisitive. You always were so adorable and loving but very proud and independent. We surely miss you Sweetheart. WE LOVE YOU WREX FOREVER! You're always in our prayers and you never will be forgotten Angel! Love, kisses, and hugs forever honey. Daddy Mark, Grandpa Don, and Grandma Sharon.
Jake
The Kevin & Cheri Wright Family
Crossed over: 10/21/2005

In July 96 Jake walked out of a wooded area onto our driveway and hearts. We were grateful that Jake choose us to visit Jake was one of our dogs. We also have 2 others Timber & Sammie. Well on 10/20/05 I left for work at 2pm. All was well. Cheri came home at 3:30 pm. She noticed Jake was in distress and weak. After calling me Jake was taken to the vet. Jake had nodules on his spleen one ruptured his spleen, immediate surgery was the only option. Jake pulled through the surgery, we were relieved and greater hope than ever grew in our hearts. Cheri transferred Jake to an all night vet facility. I was going to pick him up in the morning. As I was pulling into the neighborhood Cheri called me crying " Jake is crashing at the hospital. " Needless to say, we were there in minutes. Jake was getting CPR. A great team of people were working for him. Jake and I were real real close. I protected him from Timber. I siad a few silent prayers while rubbing his neck and ear, like I always did. That made things better. Well Jake began to breathe on his own. A few minutes later he began to go into distress again. The vets worked hard again. I continued to pray, Jake began to breathe again on his own, but not as strong this time. I then said " Jake if God want you then go, It is O.K. Go to God. It is OK. 4 breathes later Jake walked on to the RAINBOW BRIDGE. WE miss him. A great dog that was happy with a bowl of water, and a pat on the head. That was all he wanted and our love. We miss you Jake!!!!! Kevin and Cheri.
Barkley
The Finnegan/Giles Family
Crossed over: 9/25/2005

Your sudden passing has left me sad and alone. I loved you every single day and will miss you dearly. You were my Gentle Ben and the best husky ever! I love you and miss you forever.
Tiffy Girl
The Johnson Family
Crossed over: 9/24/2005

Tiff I did not know you as a puppy I got to know you whne you where a big girl and I fell In love with you. I will miss the walks we would take and your bark and the way you where with a thunder strom. I know you are in a better place Joe miss you so much he had you when he was 9 years old. We Love you And miss you Tiffy Girl. Love Always You dad And mary.
Tiva
The Livizos Family
Crossed over: 9/10/2005

How can I ever begin to describe the love I had for my little Tiva. She was the best friend I could ever have, and she stayed right next to me loyally untill the final minutes. I cannot wait to see her again someday, and will always feel blessed that she was part of my life, and I was part of hers. She came to me in the form of a present my high school senior year, and although we had another husky Tally who is still with us, she was always the baby because she never really got that big at all, and always looked like a little baby dog. When my brother and I moved out of my parents house into our own places, she came with me. And she was always the most loving soul Ive ever known. She could do no wrong in my eyes, even though she did her share of mischief. About 2 years ago, a doctor found a mammary lump and said she needed it removed. Well as we found out over the next couple years she needed alot more as it was cancer that was spreading inside her body. Im sorry ! Tiva that we couldnt get rid of it, and I know on that last day no matter how much I said I wasnt going to do it, you let me know it was time. In fact, as we were at the vet, you started to go on your own, and I never got my last kiss. I will see you again someday sweetie.
Tobi
The Bringenberg Family
Crossed over: 9/12/2005

When you came into our lives the second time, you were very sick. We spent six months taking the best care of you that we possibly could. You finally decided that it was time to go. Letting that happen was the hardest and saddest thing I have every had to do. Godspeed our wonderful friend, until we meet again. We love you and miss you more than you can imagine!
Love, Mom, Dad, Casey and Jenna
Sindari
The Bev Shane Family
Crossed over: 8/7/2005

My beloved Sindari crossed the Rainbow Bridge on August 7, 2005. Sindari was
The Greatest of Great Pyrenees and the big love of my life for almost 13 years. He was my protector my guardian, he was The King. I miss him so much my heart is broken into a million pieces. Until we meet over the Rainbow Bridge my love wait for me and greet me with Nikita and Casey. I love you with all my heart Sindari, my Hugga Head. Sadly missed by his brothers Yasha, Yuri & Lokai and sister Quinn. Love your Mommy Bev
Rana
The DeChiaro-Buono Family
Crossed over: 6/24/2005

Rana came to us on January 18, 2003 from TOTTSHR. She was a beautiful 7 year old red and white with one blue eye and one parti brown and blue eye. Rana was in foster care with Bev Shane one of the volunteers from TOTTSHR who took such good care of her before she was adopted and loved her so much. From the first day she entered our home she went straight to the den which became her room. She was such a good dog and knew that she was loved from the minute she came into our lives. Bev told me about her background which made me want to give Rana everything she never had. Bev said she was so happy that Rana came to us and that Rana finally got her forever home. Rana never left her room except to go for walks with me every morning down Patriots Path. Then when we returned she would go straight back into her room. She was so happy in there. She just enjoyed being peaceful and quiet. Her favorite pastime was lying on her fur rug and never wanting to go outside except for potty. She had her food brought to her and always had her water bowl in there.
It took almost 2 years before she would leave her room and come into the kitchen. In the past month she started to come into the kitchen when we were having lunch or dinner and then she came in while I would cook dinner and I called her my new sous chef - she was always bhind me looking for handouts and then little by little came into the kitchen and started to lay down under the table which was a first. I used to call her to come in the yard and run with me but she was content just to stay in her room. Sometimes she would suprise me and come in the yard, walk around then go into the fish pond to cool off - but would never go into the pool - just enjoyed the pond. She went for her daily walk to Patriots Path which was just around the corner from where we lived. We met so many dogs for her to get to know. In the beginning she was so afraid but little by little she enjoyed the dogs and more so their owners. Then when we finished our walk she could not wait to go back home! . We had her for almost two and one half years before she came down with an auto-immune disease which finally took her away from us. She was diagnosed in March 2005 and died in June. The vet tried everyway to save her but this disease just ravaged her body inside and out. She died peacefully with my brother and me kneeling down next to her kissing her and hugging her and telling her how much we loved her and that she could let go now and that God was going to take care of her forever. She was my heart and soul. She was my companion to whom I could talk too and she would just listen. I still can't believe that she has left me. I know one day we will be together when I cross over the Rainbow Bridge she will be waiting for me.
Godspeed my beloved Rana and wear your silver harness with pride.
With all our love forever, Mommy, Ralph and Grandma
Harley
The Hess Family
Crossed over: 6/13/2005

When I was a young boy I always wanted a dog. My mother and sister were deathly afraid of animals, however, so that never happened. I always had that attachment to dogs though, an attachment that I never lost. People used to ask me questions about dogs even before I ever had one of my own. I developed a theory of my own that all dogs needed to know why they existed. They needed a job.
I was told several years ago by someone I know well and respect and who has been in dogs her whole life, that she believes every dog has something to teach you, you just have to find out what that something is. This has always stayed with me and I always am looking to learn from a dog, especially one of my own.
As I drove home tonight, something got through my thick scull. Maybe my theory of finding the job for each dog really is interlinked with the belief that each dog can teach you something. Maybe their job is being a teacher.
Over the last month or so, Harley has been acting a little stranger than usual. Normally he would be one of the first dogs upstairs and in his crate at night when it was time to come in. Over the last month though he would wait on the deck and when I would go out to see where he would be I could see he wanted to play. I would take a couple of minutes and wrestle with him on the deck. Then I would say ok Harley let's go in and I would give him a cookie and he would run up the steps. The last few days I couldn't get him to go in his kennel in the morning. He would just sit there on our deck steps. Then I would show him a lead and he would duck right into it, tail wagging, I would walk him to the kennel and he would sit there and I would take it off him. Today I told him to sit and shake and he responded as happily as could be.
When we would go to dog shows or sledding or to rescue events or even to friends houses it was never right to bring Harley. Harley definitely had some bad food issues and did not like to be grabbed and for this reason it was not worth the risk to bring him anywhere. I always thought to myself that there has to be a job or a reason for this dog to be alive. Sometimes the reason is staring you in the face and you don't see it. With all his faults, I believe Harley could have been a great obedience dog. But I guess today I realized that Harley was an outstanding teacher. He taught me as much as anyone about this breed and a lot about myself. We were told by many people in the breed that Harley should be put down but I would never listen. If I had I would have missed so much.
Harley and I though had gotten to be good friends. I was probably his only friend and the only one he really trusted. I really got to understand him and I really learned to love him. I would tell him to sit on the steps and I would say to him, " Who's the baddest mother f!@#*&$er?" He would always tap me with his paw and say "woow".
When I went to bring the dogs in this evening I found Harley had passed during the day. He appeared to have died in his sleep. I will miss you Harley! Thanks for the lessons!
Kaya Ann
The Newman & Hyatt Family
Crossed over: 5/1/2005

Kaya was the mother of my dog Rocc and very special to us all.She was always sweet to us when we approached her.I have stayed in contact with Kaya and her family for 8 years...Just a few days ago someone decided they didnt like her and poisoned her.She will be greatly missed and forevr loved...We miss you Kaya
Christmas Noelle Hillery
The Mitchell Family
Crossed over: Mar 8, 2005

My beloved friend, a day does not pass that I don't remember and mourn you. As of old, wait for me on the trail, sweetheart, I am coming. Mama.
Yanna
The Muzzio Family
Crossed over: 2/17/2005

You are the love of my life and left a huge void in my heart. I will always love you till we meet again someday. Diana
Nakita
The John Beth & Alicia Family
Crossed over: 1/22/2005
My dog Nikita was a husky. We had her for 10 years.This poor dog went through so much.In about April she had started acting funny she quit eating and wouldn't move. So my Mom had called the vet we take her to all the time and we had the feeling he was gonna say shes geting old and to put her down. Well we found this awesome vet in Mullica Hill and it turned out she had diabetes. They kept her over night next day we went back she was fine. Tears came to out eyes over night she was 100% better. We had taken her to the vet last may and the Dr. thought she had a tumor in her eye. They had to remove it.Luckily it was Second to the diabetes. Then a few months went by and she turned blind. She got better. Then this last time we took her to the vet she had Osteosarcoma (Bone Cancer). There was only one option to amputate her leg, but it was too risky because she was blind and had one eye....Sadily on January 22, 05 we had to put her to sleep. Nakita will always be in our hea! rts forever.
Nakita
The Lawyer's Family
Crossed over: 1/22/2005

My dog Nakita, was very sick, she quit eating, didn't move it hurt us to see her like that, she had diabetes, and had to get insulin day and night, it was horrible. I miss her so much, This last time we took her to the vet she had Osteosarcoma(bone cancer) He gave her 3-6 months I remember it so clearly I came home from our school dance and we had to put her down, I hated it , I remember that night she cried all night I cried with her it I slept with her and held her all night, the next morning we made a box to put her she is up in heaven with all the other huskies.I cried the whole way to the vet and I watched he drift away , I gave her one last hug and a kiss, I miss her so much. Rest in Peace baby girl I Mommy , Daddy, and Alicia love you so very much.
Zen
The Judy Curiel and Harvey Harr Family
Crossed over: 2/16/2005

Daddy says Zen was the "sweetest Husky boy that ever lived." We thought we could never love another dog that much again after our first husky, Sebastian, died but wiithin days of meeting Zen, maybe even hours, he taught us how to love again. Zen loved everyone but he especially loved children. Once when we had three young girls visiting, he went to his toy basket and one by one choose a toy to give to each of them.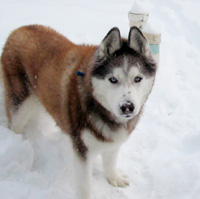 He was so gentle. If we had to do something his disliked (like clear his ears or trim the hair between the pads of his feet), his usual way to try to get us to stop was to kiss our hands. Zen taught us that life is an adventure and each day brings new surprises and after living outside for ten years, everything inside was a new experience for him. After four years in our home, he still explored parts of the house that he rarely saw. If a closet door or the laundry room was left open, he would go in a check everything out and then come running out with a look on his face as if to say, "I was not in there!" Zen adored going for rides, sticking his head in snowbanks, making a lot of noise if another dog walked into the vet's waiting room, running upstairs as soon as he heard the word "bedtime", and taking naps with dad every morning when Mom went to work. Zen still would jump from sofa to sofa, play with his babies every night, enjoy long walks and ask for another as soon as we returned. We will miss you every day. We love you more than words can express. Each day with you was a gift that we cherished.
Benji
The Carlin Family
Crossed over: 2/12/2005

Benjamin Michael Carlin was my first puppy. My mom never let me have one until this summer I went and got him myself and instantly everyone fell in love with him so of course i was allowed to keep him. He had all the energy and love a puppy could hold in his brownish black puppy body.
Whenever you were bored all you had to do was whistle and he would be there to entertain you and love you all you wanted without rest. He never snapped at anyone, never barked at a stranger and loved everyone like they were his family. Taken from us at only 10 months of age, I feel as if we were all robbed of knowing and having the pleasure of having such a wonderful dog in our lives. He wasn't just a dog.... he was a member of the family.
Ice Cold Cola
The Jeannie Waite Family
Crossed over: NA

Cola... Our arms ache to hold you again. I wish we were there with you, my dear friend. Time goes on slowly, since you been gone. We can't understand what went wrong. Our are broken, we miss you so. We wish that you didn't have to go. I guess God had other plans for you. He wanted to look in to your eyes of blue. Now we know your up above. And to you Cola we send our love. You were Mommy's pride and joy. Cola you were daddy's boy. So at the end, we'll meet again. So it's goodbye for now our dear friend.
Charlie
The Linda and Jordan Mitchell Family
Crossed over: 1/14/2005

With a very sad heart, I regret to inform everybody of the passing of our beloved family member, "Charlie". After only nine years of life he had a peaceful death during a mid-morning nap on a glorious spring-like day in his southern California backyard. The companionship both at home and numberious trips and adventures will be his legacy. Charlie had more trail miles then all of us combined both on road, snow and trail, mostly acompanied, occassionally solo. He climbed many Sierra Nevada mountian peaks, braved many cold water lakes, and gave many wild ceatures, small and large, a run for their money. Charlie hearded and watched over our human pack on many hikes and in our daily lives. The Spirit for the outdoors was so very strong in Charlie's heart, he lived everyday like it was the last and at times I felt so guilty for being too tired and lazy to take him out for walk. As a family member he kept our hearts warm with a playful nature, as a companion he followed us from room to room always comforting with his Loving presence. Charlie will be missed so much by his family and friends, he was my best friend.
Sky
The David Snyder Family
Crossed over: 1/3/2005

The day I lost you a part of me died with you. A part that I can never replace. My life will never be the same without you in it. Your beauty and grace under the most dire of circumstances never faultered. You were friend and companion, lover of children and best friend. Your family and I miss you greatly and tears still flow freely when I think of the loss that has occured. I cherish the memories you have left us and you will live in our hearts until we can come to join you. Your family misses you more than words can express.You are forever my Sky Girl.
Daddy and Family