Larissa
The TOTTSHR Family
Crossed over: 12/29/2006

Beautiful sweet Larissa, we are sorry that your life had to come to such a tragic end the way that it did. You were a TOTT alumni and always will be......we are sorry that you were so true to those husky ways and did not care about jumping that fence or that car in the street. Your story will be told many times over to warn others of huskies and their ways, your death will not be in vain and you will not be forgotten. Wear you silver harness with pride......it will look so beautiful with your snow white coat and sparkling blue eyes. Godpeed sweet girl.
Sikora
The Andrea DiMaio Family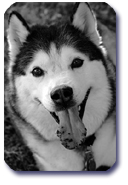 Crossed over: 12/28/2006

Dear, sweet Sikora. It's coming fast upon your 11th birthday. Last year at this time we were taking our "Sikora walks". You had been diagnosed with your aggressive cancer and I was trying not to mourn your passing pre-maturely. I was trying to live each day with you while you were still here. You helped me do that. You passed onto the Rainbow Bridge, finally secuming to that awful disease. You went on your own, not wanting me to have to make that decision I knew was fast coming to me. The one I didn't want to make.
I thank you everyday for giving me sooo much. You are the reason I am who I am. You are the reason I became a trainer...since the trainers I talked to told me I should put you down at the age of 2 when you started snapping when someone walked near your food. You're the reason I started trying to figure out how to help fix the problem. I wasn't going to give up on my beloved girl. We had our ups and downs, but in the end you did so well! Coming to work with me everyday, making friends with the girls at work,and putting up with the silly puppies all around. I still ask your forgiveness for using those 'traditional' methods on you. You were a husky. I had to make things seem like it was your idea. I had to be gentle and patient and understanding of why you did what you did and why I made you the way you were. I learned though, thanks to you. You totally changed my life.
Thank you for giving me chance after chance and teaching me so much. My love for you is stronger today than the day I first saw you as a darling, shy puppy. You were my first husky and the reason I will always have that wonderful, intelligent breed in my life. Basha and Yukon carry on your legacy.
I miss you so much, my dear, sweet girl. It's still so hard, after almost a year,not to have you snoring by my side at night, not to have you in the seat next to me in the car. I love you my Sikora-butt.
Denali
The Lee Family
Crossed over: 12/1/2006

Just three days after saying good-bye to our husky, Logan, we had to say good-bye to Denali. She was diagnosed with a liver tumor in April 2006 so we knew this day would come; we just didn't think it'd be like this.
She had diarrhea for nearly a week and seemed depressed, not unusual considering we had to put our other dog to sleep. But her diarrhea didn't get better and an x-ray showed that her tumor had grown to 3x its size. If she was slowly bleeding internally, she'd go downhill fast. If she wasn't bleeding internally,given the size of the tumor and how it was affecting her, she still didn't have very long. We decided we didn't want her to be any more uncomfortable than she already was by delaying the inevitable.
She deserves to be remembered. And she would have demanded it :).
Denali was a typical husky puppy – she dug trenches, ate expensive sunglasses, was incredibly active, ate shoes (but only one of a pair) and demanded constant love and attention.
I always joked that Denali, who became a pet therapy dog for St. Hubert's in 1999, thought all the people she visited were there for her, not the other way around. It didn't matter; she still loved being adored and she lifted people's spirits. She was also a great dog for rambunctious students; it took a lot to phase her.
And Denali, who turned 11 years old just before Thanksgiving, still got into trouble (she ate most of my pizza the night Logan died).
Denali was VERY independent, VERY smart and sometimes tough to live with. But she was a great hiking companion, a wonderful pet therapy dog (even if it was all about her) and she loved my husband and I. She was our first born (and only baby for 2 years before Logan came along). She was the princess (and was treated as such).
In some ways, Logan was the favorite - He was so sweet, laid back and cuddly like a teddy bear. But in others, Denali was the star. She was beautiful, graceful, and loved to give kisses.
We will truly miss them both.
Logan
The Lee Family
Crossed over: 11/28/2006

Two days before Thanksgiving, Logan was stumbling a little. By Thanksgiving Day, he could barely walk or move on his own. An MRI showed nodules in his brain but we weren't sure whether it was cancer, a bacteria or a fungal infection. He didn't respond to initial treatment and it looked like terminal cancer was the likeliest candidate. Because his condition became so poor by Nov. 28 (he could barely move), we decided that it was time to let him go.
We, of course, do not want to remember him by his last days. We'd prefer to remember happier and funnier moments: -the day in February 1998, when we brought him home from the shelter and had to roll the windows down because he stunk like pee and who knows what else. He'd just been neutered so we couldn't bathe him; 5 or so cans of the rinse-free soap helped make him tolerable. -Logan running in the baseball field in Bridgewater with Denali and sometimes with my brother's dogs. He'd galumph after them and still seemed pretty fast for a dog who seemed to prefer the couch. -Cuddling with him at night (I think I cuddled more with him than with my husband). -Hearing him howl when we first got home as if to say, "Hey, where's my food?! Where have you been?" -Taking him swimming or on hikes. -How he'd sit in the car like a furry person. -How he LOVED food and would do anything for it. -Seeing him cuddle with Portia, our cat, and most recently, with our baby. -Having him follow me everywhere and always come with me into our baby's room when I put her to bed. -How he'd play bow to Denali and then run like hell when she chased him. He'd often scramble under the coffee table to get away. -How he'd bury his whole face in the snow and "steal" clumps of snow (had to be untouched) while on a walk. -The way he tilted his head when you talked to him. He was a shelter dog who was tied to a tree by his last owners but for most of his life, he was spoiled by us. And we were spoiled by the love he gave to us.
He was our child, our companion, our Fat Boy (even after he lost weight), our Logi-Bear.
Logan we love you. Our house is so quiet without you.
Dakota
The Frank and Melissa Family
Crossed over: 11/22/2006

Dakota was our first Siberian Husky, our sweet painted face Husky with a striking "lightning bolt" on the top of her head.. She had one brown and one blue eye. We rescued her from an abusive situation with a 7 year old boy, who hit her with a hockey stick. We brought her home, and the next day, had a stockade fence installed. When the fence was finished, we let her loose in the yard; she ran, ran and ran. I built her a dog house and she would love to run fast into it, we would be so surprised that she didn't hit her head on the back of it!. Having a nice big yard, I decided to build a picnic table for us to entertain my kids but she took it over and proudly sat on top for hours. She dug one specific whole right under the largest tree in the yard and would curl up for hours in the shade, until her very own pool came then she would gingerly walk in it and drink from it. That is how she met Zacky- who we rescued from the New Haven Shelter just 2 days before being put down. He bounded into the yard saw her in the pool and promptly stomped his way in with her. Dakota, being a pedigree brat or Queen, just looked at him with disdain but never barked or yelped. One look from Dakota and you knew what she was thinking.
She loved bonies and would guard them for hours only then yelping at Zacky or Sailor if they came near them! At 4 PM every day for the past 2 years she would come out of the bedroom – her safe haven and " nose " or WOO you for her bonies... Her appetizer before dinner. Dinner was a calm experience with Dakota, unlike Zacky who pranced between people she laid under the table always knowing she would get people food eventually. She was refine and had manners
Dakota was with us when we moved to St. Maarten. Once the huskies did escape and off she went – always in the lead- We heard that she ran into one of the villas down the road whose door was open – got a drink of water and continued on. We know because the French lady whose house they decided to visit told us the one with the 2 eyes came in and then dashed off. Luckily a kind couple corralled them and called us and we got them back, however, in that climate it was quite a bit away from home.
Each dog and of course, each husky has its own personality. Dakota was a loner pretty much and at times aloof, but her gentle eyes and that gorgeous face could do you in. Each night, I would lay down with her and do :"moonies", say goodnight and give her a kiss. " Moonies", and she knew the word, was to rub the white area above her eyes. It calmed her and she loved it.
We knew since July she was failing and we believe the loss of Zacky- even if they didn't interact so much in the last years made her grieve in her own way. Her legs and backend gave out in the end and she went peacefully on November 22, just 4 months after our nutty and loveable Zacky. Our original two huskies can never be replaced in our hearts and we are so grateful they came to us- we had 10 wonderful years. There will be other Siberians but Dakota and Zacky will always be cherished in our hearts.
Juno
The de Rita/Wolf Family
Crossed over: 8/1/2006

Junebug, your work here is completed. Many canines have been and will continue to be saved because your influence on our lives changed us forever. We love you Junie. Your gorgeous presence will be enormously missed on Aileen Street and beyond, but you are now carefree, playing with sisters Hera and Pupsworth, as well as Sassy, Waggs, Dakota, Cisco, Tess, Kafall, Blue and many new friends. You are no longer in pain or discomfort and restored to your original beauty. We admire your stamina, love and grace in the face of an awful, consuming disease the course of which we could not change.

Your presence was so much bigger than life I always expected you to live forever, not just ten years. But Juno you will live in our hearts forever. Thank you for gracing our lives with your company and teaching us the lessons we needed to know. There will never be another one like you. Rest in peace our precious Red Girl, Junie Tune-tunes.
Shyanne
The de Rita/Wolf Family
Crossed over: 11/25/2006

You have been a very big part of our family for the past 8 years and we very much miss you already.
Macavity
The Musselman Family
Crossed over: 4/15/2006

Everyday we think about you. We miss you every much.12 years was not long enough time to spend with you. We had some good and crazy time with you. We will never ever forget the good and the bad times we had with you. You are now with Trinity on the othe side of the Rainbow Bridge.The family will always remember you for all that you meant to us. You will always in our thoughts for ever.
Tonya
The Pucciarelli Family
Crossed over: 11/4/2006

Tonya was truly a part of our family. A sweet and loving soul... Her kindness and beautiful personality will be missed as will the comfort and happiness she brought to us. Goodnight Girl, I Love You...
CH Foxlair's Kiska
The Hess Family
Crossed over: 10/26/2006

I can hardly sit here and write anything without tears. Too soon you were gone. We were not prepared for this. I don't have any words to say how I feel. Other than I had to let you go. It was my promise. I get to know you do live on in your kids & grandkids. I only wish there had been more time. Even 13 years wasn't enough time. For your sweet & gentle soul.
Yukon Zack (aka Zacky)
The Frank and Melissa Family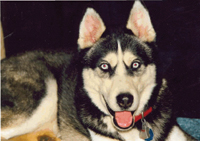 Crossed over: 7/27/2006

It was on the 27th day of July, in the year 2006 that Zacky went gently into the night across Rainbow Bridge. Almost 9 years to the day he literally "jumped" into our lives with gusto, but also with much gentleness. With his passing, he left a very large void in our hearts that can never be filled. There will never be an equal to Zacky, there may be others, but not a Zacky. He was a good guy, and I know that he is north of Rainbow Bridge, and when I make it there, I know he will be waiting for me at the gate, wagging his tail, waiting for his "bonies".
He would carry his dish filled with food and place it where he wanted it and it had to rest on his left paw. He used to claw me when he wanted something, I would yell, but today I wish he was here to do it again, believe me, I would not yell.
Zacky was like many Huskies, stubborn, turn his back to you, "forget" his name at times, and in his younger days, love to run free. But unlike other Huskies, he would "dance" his left paw would go up and down till he was satisfied he was sitting straight and beautiful. Dinner was another highlight at our house. He would "dance and prance" between us and always nudge my wife or a female guest at the most inappropriate place and always on the left side. He loved "people" food Always gentle and never grabbing from our hands, until he learned to eat from a fork.
Yes, Zacky is gone, he now wears the Silver Harness, but he will never be forgotten, replaced, and no other will ever take the place of Zacky .
Why do the ones we love the most leave us so soon.
Sadly missed by his ""Mommy and Daddy", Sailor, Dakota and Grandpa.
(Sargarent) Sabre
The Ron & Konnie Mille Family
Crossed over: 6/22/2006

Sabre was my best friend. He was part of our lives for 13 years and 1 week. He made me laugh and was always a comfort to me. I miss him every day and still look for him when I come home from work. I know he isn't in pain any more, but that doesn't make me miss him any less! He was the best pet I have ever had. There will never be another Sabre. I am so thankful for the time he was with us. I still miss him but know he is in a better place and I will see him again some day. Thank you for letting me express myself and share his picture! -- Konnie.
Eve - Rockland's Evening Starr
The Hess Family
Crossed over: 8/27/2006

Our hearts are heavier with your passing. But the night sky is brighter with your light. Run free beautiful Eve. Rest well, gentle soul.
Franki
The Dave and Julie Family
Crossed over: 6/28/2006


In honor of our dear little girl Frankie that went to sleep for good a few weeks ago we ask you pray for all the homeless and unwanted and neglected huskies in the world. Frankie you were our baby all through the 10 years we were blessed to have you in our life and we will miss you terribly. Thank you for all the wonderful memories.. we love you.
Willie "B"
The Guydosh Family
Crossed over:

It has been a few year since Willie has crossed and I miss her every day. I would just like to have others know that she was here and loved.
Ayla
The Kurtinecz Family
Crossed over: 3/30/2006


Ayla potata as Rita calls you.
M-I-S-S-Y A-Y-L-A, Missy Ayla !!!!
From the moment you jumped out of your foster mom Rita's car it was at though you jumped into our hearts. It was like you were meant to be in my life, in my family's life. It was stated your life was not always a bed of roses, but I hope the months we spent together, you know how much you were loved. You asked for nothing more in return for your love other than our love and an occasional bisky. You were and always will be loved. You did indeed find your forever home that day within my heart, nan & paps's hearts and almost everyone who met you.
Ayla was my buddy and my companion. From the first day she decided, this chick is okay and I'm going to own her now and live in a one dog house we did as much as we could together. We went to the Finger Lakes in NY twice last year. Once with the "girls" including her Bernese mtn dog friend, Teddy Bear and once with nan and pap. She loved to wade in the lake even though her mom couldn't stand how cold it was. We sat next to a campfire roasting marshmallows and camping out. Visits to other lakes, to nan & pap's for weekends and holidays and the visits to see grandma in the nursing home. The staff just fell in love with you as well as most of the residents. There was a line to see Ayla at every visit. And you, you just soaked the love in and rolled over for belly pets. Grandma didn't remember the 2 legged visitors, but she always remembered Ayla was there to see her.
At times she served as a very fluffy pillow for my tears. Ayla, I told you this as I wished with my entire heart I could do something to save you, to bring you home with me, but you saved me. More than words can say or express you saved me. You were the one constant love and companion during the time of Aunt Laura's illness. She loved you too girl. I remember when you first met her, I told you to be careful around Aunt Laura cause she was so frail and you looked and cocked your head as telling me "I know mom, it's okay". We went in and you went right to her and sat next to her wheelchair so calmly so she could reach you. Even on that day when you went to the rainbow bridge, your fluffy pillow caught my tears. Now as it thunders outside and the blue lightning cracks in the sky, there is no fluffy pillow to catch the tears as I think of how you would be right beside me during the storm.
And speaking of rain. Nan played dress up with you while mommy was away the one time and couldn't take you along. Remember, I came home to find out it had down poured and to keep you dry she decked you out in a rain bonnet? And how Aunt Kathy and Homer the beagle came to meet you after the adoption and she commented on how much you and Homer looked alike as she picked up his ears? Oooh, no, that Beagle boy was not a dignified Husky.
I think about how rough your life started out, then how this group of individuals saved you and took you in, the shaved pictures of you and how caring Rita was with you and how she was there to support both of us afterwards to the end. I thank the Lord for everyone who got you to me, I thank Him for every second we were able to spend together. It was just too short, but I would not trade it for anything in the world. Not even after the heart ache of losing you so suddenly.
Pumpkin pie will never be the same as the thought of how you scarfed that one intended for Aunt Denise right off the counter while I was still in training.
You were my first, my girl, my fuzzy butt blue eyed brown eyed girl. There may be others, but you are and always will be my Missy Ayla. My girl. Take care my lovey, chase those s-q-u-i-double r-e-l-es to your heart's content until we see each other again and belly rubs and face caresses will abound, my husky faced girl. --Michele
Impala
The Baker Family
Crossed over: 3/9/06

Impala left this world, which too often treated her unkindly, being stroked and petted by Betty Ann and me as we told her how much we loved her, our eyes brimming with tears. After going to sleep for the final time, she looked so angelic and peaceful, and this is the way we will always remember her. Impala first came into our lives on July 2, 2001, when we drove to the Jackson, NJ shelter to check out a four-year-old female Siberian Husky who was running out of time. We took our dominant male Husky, Shadow, with us to make sure they would get along if we fostered her. When we arrived at the shelter, we were not quite sure what to expect, as this was the first time that the decision whether or not to bring a dog into rescue was totally up to us.
We let the attendants know that we were here for the female Husky, and they said that they would bring her to the large evaluation pen at the rear of the facility. We met a gray and white girl with the saddest deep brown eyes you have ever seen, the color of Hershey's dark chocolate. She was somewhat overweight, scared of people and terrified of men. She and Shadow, however, hit it off immediately.
The dog finally allowed Betty Ann to give her a biscuit, which she accepted, although we had the distinct impression that she expected to be hit immediately afterward. Shadow, however, reassured her that she was in no danger, and she actually allowed Betty Ann to scratch her ears. That did it. She was coming home with us.
Since we name our fosters in alphabetical sequence, she was the "I" dog, and since our current theme was cars, she became Impala. For the first day she was with us, she cowered in the corner, allowing Betty Ann to approach her from time to time. Finally, however, after she watched me petting Shadow and Sunny, our other Husky, she decided to take a chance and let me pet her.
From that day on, the transformation was amazing! Gradually, the fear in her eyes began to disappear, replaced by a twinkle that could warm the coldest heart. The dog that was shy and afraid became warm and affectionate. Although still cautious when meeting new people, she quickly warmed up to them. Especially children. She loved the kids we met on our daily walks, and absolutely adored our one-year-old granddaughter.
Impala found what we assumed would be her forever home on my birthday, August 4, 2001. We were so thrilled because, having checked out the adopting family the way we usually do, we were convinced that this would be a wonderful home for her, especially since they already had a male Husky who would be her companion.
Little did we know that, after a few years, they would tire of Impala. When she began to lose weight, drink excessive amounts of water and have accidents in the house, they banished her to the back yard 24 hours a day instead of taking her to the vet. We were shocked when our follow-up committee learned of this and immediately agreed to bring her back into foster care in our home. We took her to our vet, who diagnosed her with diabetes.
We began giving her daily insulin shots, but even after increasing the dosage several times, she continued to lose weight and her blood sugar continued to rise. Finally we took her for an ultrasound, which revealed that her liver was so badly atrophied that it had ceased to function. Since there was no hope of recovery and she was slowly starving to death in spite of eating well, we made the decision to send her to the Rainbow Bridge, where she is now free of hunger and pain.
My eyes are once again brimming with tears as I write this, just as they did on that fateful day. She will be missed but never forgotten. She will live in my heart forever, where she will be safe, warm and comfortable.
Godspeed, Impala. Wear your silver harness with pride. I can think of no dog more deserving of it than you.
Eury
The Rush Family
Crossed over: 3/11/06

It is with great regret that I inform you all as to the passing of our beloved 13 year old Siberian Husky, Eury. Eury passed away around 8pm Saturday night, after suffering, what I believe to be, a stroke Wednesday night. He died peacefully on his bed next to the couch. He spent all day Saturday outside, where he loved to be, while I did work outside in the backyard. He loved digging his holes under the bushes! Eury had a tough life, which many of you already know. He was rescued by ASPCA of the greater Pittsburgh area at age 11. He lived his whole life on a farm in western PA, tied to a 55 gallon drum -- where his owner was found unfit. The ASPCA could not adopt him out, because "nobody wants an 11 yr old large breed dog." Eury was scheduled to be euthanized. He was then taken by Tales of the Tundra Siberian Husky Rescue, from who we got him. He has been a joy and love in our home since March 2004. Eury was a cancer survivor, having several tumors removed from his mouth this past summer. He was mentally and emotionally tough. He wasn't "fixed" until age 11, but never had any complication. He also suffered from anemia and arthritis. (He never missed his raw liver to combat the anemia.) With all these ailments, he never turned down a car ride, trip to the dog park, or a walk with his much younger brother and sister. At age 13 he still kept up with his two much younger siblings. Eury always was the watchful eye over our 4 month old son, Ethan -- always eager to clean up a dirty face. Eury, my best buddy, you will be greatly missed. The most loving smile, and most tender heart, for an animal that was wronged by man-kind for so many years. There will always be a place in our hearts for you Eury, a warm sport on the floor, a full fork of liver, and a cool bowl of water. We all love you so much, but in heaven there is no cancer, there is no pain -- take care and God Speed my friend. Love always and forever, Jeff, Kate, & Ethan Eury is survived by his 4yr old sister Myja and 6yr old brother Eli. Eury Michael Rush January 16, 1993 - March 11, 2006
Magnum
The Philips Family
Crossed over: 1/17/06

He was my good half, and my evil half at the same time!The best dog I ever had. Pure energy! GO TO HEAVEN, MAKE 'EM HELL,BOY!!! C U THERE, SOMEDAY!!!
A.J. aka "Doughboy"
The Yturbe Family
Crossed over: 8/2/2006

A.J. was diagnosed with a tumor on his adrenal gland. He was almost 13 at the time. There was no way to no if it was cancerous. Because of his age and the other complications involved, we decided to let him live out his life. It was so sad to see a boy that was so robust and happy waste away to nothing. Making that last trip with him to the vet's office was the hardest thing that I'll ever do. I think of him often and hope that he's now back to being the happy boy we all grew to know and love. Goodbye old friend.
Lucky
The Yturbe Family
Crossed over: March 23, 2006

Lucky would come to us in on July 4th of 1992. It wasn't a day of celebration for her, as she was thrown from a moving car in the parking lot where her soon to be new mom was working. She was just a little black dog and a co-worker gave her the name Lucky as her one white paw was a sign of luck; and the name stuck. I got a phone call to come and pick her up as she would be coming home with us. All the local shelters would have put her down within 5 days, so leaving her behind was not an option. I'll never forget that as she and I rode home she rested her little head in my lap; feeling safe at last.
Lucky and her sister Misty bonded very quickly and would become especially close. Lucky must have felt like she'd gone to heaven as our home was in the country and she was a city dog. She would become the alpha dog in our pack that would eventually include three other huskies; so she became an 'honorary husky'. She got into everything, and once chewed on some interesting things like pieces of concrete and aluminum soda cans. She soon earned the nickname, 'rodent dog' as she had a little rats' tail that she wagged constantly, and for her questionable dietary choices. She was a fun-loving dog who loved to play, joining her brother and sisters on hikes and for walks around the neighborhood. She was sometimes over looked in a home with much bigger dogs, but made up for it with a joyous spirit. Lucky was diagnosed with lung cancer on early March of 2006. She crossed over just 5 days after we got this awful news when her mom and I were both at work. I wished we'd been there to say goodbye, but Lucky left us on her own terms. She was an honorary husky who lived the good life for 14 plus years, we still miss you girl.
Tina
The Amanda Ramsay Family
Crossed over: March 5, 2006

There were two angels, Jada and her sister Tina.. Unfortunately we lost Tina. Came home one day from work and found her in the backyard. Was one of the worse days of my life. She was an amazing pet and a great part of our family. She is dearly missed still up to this day. Miss You Tina. Love You