Chakka
The Michelle and Traca Family
Crossed over: December 28, 2007

12/28/07, 5:45 PM -- Our hearts are broken! Unfortunately, last night we lost the fight to keep Chakka strong, healthy, and alive. Run free little girl and wear your Silver Harness with pride! Mommy tried all she could to save you, my darling Chakka. You are now in the arms of angels until we reunite once more....
Chakka was "tentatively" diagnoised with degenerative mylopathy November 2006. Although, please read my "Was it Cushing's Disease or Degenerative Mylopathy" (DM)...
I now question Chakka's Vet, Dr. Wilson of Animal Clinic of Sterling Heights of this diagnosis. I feel she had Cushing's Disease now that I've reviewed all of Chakka's medical records. DM is a debilitating disease that attacks the mylonin in the spinal cord and gets progressively worse with time until finally your pet is unable to stand or walk on their own. It's a paralyzing disease which also effects their incontenance and back end. This disease is similar to that of multiple sclerosis in humans. There is no cure for this dreadful disease and the pet will eventually lose their battle to walk entirely in about 12 months after diagnosis. We did all we could for the year and one month after her diagnosis to make sure Chakka stayed strong and healthy. One of the things we did was purchased a wheelcart in June 07 when the disease showed it's first sign of agressively attacking her spine. She was unable to get up one Saturday morning and could not stand nor walk. She was taken to vet emergency and was prescribed Prednisone (an extremely agressive steroid) for 6 weeks. She responded well to treatment and was up walking by 2 weeks after beginning treatment. I did therapy on her legs daily, used hot pads, stimulated her spinal column nightly, and worked with her diligently helping her re-learn to move her back legs. By the end of treatment, a miracle happened and Chakka was able to get up on her own and walk by herself. We hung up the wheelcart and for the entire summer of 2007, my little buddy walked side by side with me up and down the street. The neighbors were amazed as were her doctors...
Boating for Chakka ~ Chakka's final boat ride was the maiden voyage May 2007. Chakka, Chrissy, Brandon, Traci, Colin, and I took "Knot Today" for her maiden voyage of 2007 to the Moot where Chakka had spent many many hours right there in the past 8 years by my side. I never left dock without that little girl in 8 years. She was a star at the Moot, always enjoying the attention while wearing her stylish shades riding on her floaty or riding in her little blow up boat, floating up and down the gauntlet. Boaters always snapping her picture and stopping us to pet her...
Summer past, then Autumn, Winter 07 had just begun and Chakka went back down and never made it up... For 17 days and through Christmas, I layed by her side night and day to give her comfort and love. I never imagined even entertaining the idea of euthanasia for Chakka...! Then, the 16th day, I couldn't bare to see my baby girl just lay there. Her quality of life was gone and she was in pain... When I woke the morning of December 28, 2007, I made that dreadful phone call to the vet's office. At 4:00 pm, Traca drove the SUV while I rode in the back with Chakka to the vet's office. The ride was actually good. I didn't think I was going to go through with it. I was hoping for Chakks to get up and take off running and never look back. She never did.... They had a room ready when we arrived. With her blanket in my arms, I wheelbarreled her into the room. She went into that room, laid down on her blanket, and put her head right down as if she were ready for eternal rest. Watching the nurse putting that IV line into Chakka's arm was unimagineably the worst feeling in any pet owner's life. Traca and I spent 45 minutes alone with Chakka before the drug was administered. The Dr came in at 5:45 pm, Traca had to leave the room. I was on the floor with Chakka holding her close in my arms as I held on to her for dear life with my head buried into her neck as the Dr administered the lethal dose into her IV. 30 seconds later, Chakka's heart had beat it's final beat...That day shall haunt me forever...!!!
It has been 4 days since her passing and the pain and numbness still linger in my heart... I picked up her remains today and am waiting for her urn to be made along with a sterling silver heart necklace which will hold some of her remains that I shall wear around my neck forever.....
Those who were blessed enough to have known Chakka, knew she was a fighter - never giving up. This was one fight she could not win...
She was treated like a queen and was our raye of sunshine for 12 years 2 months 22 days... Until we meet again at the "Rainbow Bridge"...
I love you so much, Mommy xxoo
Cujo
The Gustofson Family
Crossed over: 11/24/2007

Our beloved dog Cujo was taken away much to soon. We will miss him dearly. He was our families best friend, Always the happy Husky. We will miss him for the rest of our lives.
Riley
The Dave and Julie Family
Crossed over: 11/27/2007

Riley passed on this evening at the vet's. He was such a good boy and it hurts so much to have let him go but we could not allow him to continue on for us when he was so very uncomfortable and weak. We feel so very blessed that he was in our lives for as long as he was. Riley you enriched our lives and really were so very special, we miss you and love you so much. You were our R-Man! You were our good boy!
Alaska
The Tiffany and Tom Warren Family
Crossed over: 11/6/2007

Alaska mommy loves you and you will never be replaced. I cant wait to see you when I go to Heaven. Watch over me please.
Lupi
The Frances Veszlenyi Family
Crossed over: 10/27/2007

DOB - January 1, 1995 -Lupi, my baby, my little girl -you are my best friend and my heart and soul. After you came others, but you outlasted all of them. You were highly intelligent, creative; so funny and beautiful. I became again the best friend of the most popular girl. Sweetheart, I miss you so much, you are the love of my life and no one will replace you, ever!I miss when you talked at the same time I had conversions with others.I miss how we played hide and seek and then I chased your bum.I miss how you used to flip the sheets and pillows off the bed for 10 mins when you were frustrated about something.I miss how you stared at me when you thought I wasn't looking then turn your head when I saw you. Who will protect me from mosqitoes - remember you had to lay on me and lick my face to keep those bugs off me. "OH Lupi, you have some esplaining to do" "The Lupinator" "Lupi; Lupi; Lupi; Lupi" You had the expressions on
your face that I could always tell what you were thinking of and you knew what I was thinking of too! Lupika, I love you always and forever until we meet again soon at the rainbow bridge, be there for me I need your leadership. Mummy.
Nvwati
The Amber O-Hara Family
Crossed over: 9/28/2007

Nvwati was born on April 1, 1997, the second of five pups born to Miko, a timber wolf. Miko came into my life two years earlier, gifted to me in the Will of an elderly woman who passed away. I am American Indian and belong to the wolf clan. This grandmother knew of my love for wolves, so when she passed away she left Miko to me. I had no idea Miko was capable of having pups! I thought by that age she would have either been spayed or sterile.Miko met Timber, a black and white Siberian Husky and they fell in love. They would both cry for hours after their play dates together. I had to be out of town for a week and Miko went to spend that time with Timber and his human mom. When I returned home I was told they had mated.Sixty three days to the day, five pups were born. Nvwati was the largest, and the second one to make his appearance. He was born butt first and I had to help him come out.Two weeks later I was awakened one night to the sound of howling. Imagine my surprise when I went into the Solarium and found Miko howling at the full mooon with little Nvwati sitting beside her, his little head up high howling along!As people came to decide which pup they wanted I would all but push Nvati into their hands but each time they would say "No". Being a blonde he didnt look as "wolfie" as the other pups did and so before long I was left with only two needing a home, Nvwati and his brother. After his mother Miko died suddenly, he wiggled his way into my heart and remained with me, my constant companion.Nvwati loved to sing and would sing along with me whenever I took up my drum. He competed in and came in second in an International Pet Singing Competition. He was on several tv shows including Breakfast Television, Oprah Show, Erin Davis show, etc. Nvwati can be seen singing on his dogster site at www.dogster.com/dogs/83943. Over the next 10.5 years Nvwati brought me so many wonderful memories. Whether it was of him singing as I drummed, or the countless times his attitude would come through, he always brought me joy. He lived up to his name which is a Cherokee word for "Good Medicine". During times I was so ill I didnt know if I could go on any more he would be there for me , loving me and showing me that I had better not leave him! Nvwati was so very gentle to all he met, but especially loving to homeless people. Its as though he seemed to sense they needed a little extra loving. Time after time I told him how he better not die before me because I couldnt bear the loss. I told him this just the night before he passed away. On Friday, Sept. 28, 2007 while out for our afternoon trip to the park, I noticed he was walking slowly. Jokingly I said, "Hey bubbs, you re slow today. Whats wrong? Are you an old man now?" Upon our return from the park he lay down at the doorway to my bedroom and let out a yelp. It was by far not the worst yelp I had heard from him over the years but his beautiful eyes told me soemthing was terribly wrong. I helped him to my bed and called the Animal Hospital. I was told to bring him right over. Thinking it must have been something he ate, I put him on leash and began the 3 block scoot to the Animal hospital. Two blocks from home, my darling wobbled then sat down. He put his head down and died right there on the sidewalk, one block from our destination.His autopsy showed he had Pericarditis, a large bag of fluid around his precious heart making it hard for it to beat. He died of a massive heart attack.It feels as though my heart will explode from grief. As I left the Animal Hospital, I sat outside on my scooter (wheelchair type thing) and looked up at the sky. On the one side of the street where I was, the sky was blue and sunny. Directly across the street the sky was black and it was raining. It was as though the heavens had opened to welcome my beloved Nvwati home!
Kayla Ann Goodin
The Goodin Family
Crossed over: 8/17/2007

I have always taken in abused animals cats, dogs, horses you name I have had it at my home sometime in my life. When Kayla came into my life she was 6 months old badly beaten by her former owner. I took her to my vet he cleaned her up an closed 3 gashes in her back. Once I had her back home I had my hands full with her she would fight with my other dogs tear up anything she could sink her teeth in. It took 3 months of showing her that her new owner was a kind loving person. I never knew what a wonderful companion she would turn out to be. I had Kayla Ann for 18+ years. I was giving her a bath one day I found a small bump on her belly that turned out to be a cancerous tumor the vet said nothing could be done for Kayla but love her. It was 8 months later when it was time and it was so hard to let her go but it was the most loving thing I could do for my best friend so she wouldn't suffer anymore. I never realized what a large hole she would leave in my life as well! in my heart. I will always miss Kayla and our times together. The day I pass over I know in my heart Kayle will be there waiting for me.
Sammie
The Kevin & Cheri Wright Family
Crossed over: 9/7/2007

Sammie Wright was my retired police dog. She was a loyal and faithful dog both professionally and personally. She did countless demos providing great community relations to the pd and public. She was always on patrol, but gentle at home. Sammie was 13 1/2 when she went to the bridge. Her health failing, but her sprit the same as the first day I got her. She could barely walk, and when she did she looked at me with such questions like Why are you making me do this? She would do it though, but it was only because I asked her to. One of the toughest things I had to do was to end her pain. Then ours began. I passed her from my arms to God. She will be missed, now with her pal Jake who passed 2 yrs ago. Our home is empty without them both. Jake Sammie til we all meet again.... With Love, Kevin and Cheri
Mount Moriah
The Dennis & Linda McGuire Family
Crossed over: 9/13/2007

I will never forget you Moriah. You were my best friend, buddy and pal. You brought immense joy to our lives and great heartache when we had to let you go. Because Linda and I never had children, you became all that more special to us. I remember you as puppy.... silly, spunky, one blue eye and one brown eye, full of energy and life. Then as you became an adult, you looked regal, strong, and ran with such grace and majesty. We had a lot of fun playing catch with the tennis ball. I remember how you loved to rough house with me. I also remember you just coming out and laying down near me when I would smoke my pipe out on the back patio. And of course, your favorite thing of all, going on our walk walks. Oh, how you loved your walks and going on trips. It never ceased to amaze me how so many people commented on how beautiful you were and how people were so attracted to you. God truly made you special. Then, as you got older, it was hard to watch you slow down because you were always so strong and vibrant. But even though your mind was still sharp and your heart still young, your body wouldn't cooperate. You hung in their for as long as you could, but we couldn't watch you deteriorate anymore and didn't want you to suffer, as you could no longer walk.

Please forgive us for letting you go. It's the hardest thing I've ever had to do. For nearly 14 years you were my buddy boy. And because the last 5 years my office was in the home, we bonded all that much more.

I think you will like your resting place. It's at Pat and Kim's house. I remember how you loved to roam their property. Now, you will rest under one of the Pepper trees near their house. As often as I'm in the area, I will visit you, my friend. I love you buddy. I miss our walks and your friendship so much. Rest in peace.
Glacier
The Burdick Family
Crossed over: 7/11/2007

Saying goodbye was the hardest thing in the world, but we will always remember you.
Mya XXIII
The Susie Chapman Family
Crossed over: 6/28/2007

Mya will never be forgotten.She was only 6 months old, A beautiful Siberian Husky.we did all we could to save her but she ate a rock that was just too big for het to digest on her own,had surgery but the rock done too much damage,I feed her by hand with liquids for 3 weeks after the surgery but she just kept losing weight and going down hill so I couldn't let her surfer any more so I made the choice to put her to sleep ,I will never forget her,she was very special puppy.
Peaches
The Lantz Family
Crossed over: 6/17/2007

We loved you and tried to give you a good home..may you be playing and running over the bridge.
Uilleann aka Little Lou
The Klein Family
Crossed over: 4/10/2007

Sweet Sweet Little Lou, you came to me as a sick little foster puppy on 9/17/06 at only 3 months old. So frail and in need of attention and time. It took us a bit and some specialty visits and tests to get to the root of what was ailing you, and you withstood every test, scraping and poke with grace and ease that even the doctors couldn't believe.....you were amazing. You touched many hearts along the way, but most of all you touched mine. A wise person once told me that it is not the easy foster dogs that touch you the most...it is the ones you put the most time and energy into that pull so deeply at your heartstrings...they were so right. Between the special baths and lotions, the medications twice a day, the specialist visits and everything in between Lou....you and I grew inseperable. Wherever you saw me, Lou was not two steps behind. Wherever I was sitting Lou was on my lap or right next to me.....she was my comfort during two terrible losses over the last two months and I was hers when she was relapsing from her disease and she wasn't feeling well. I am not sure why she had to be taken so young or so unexpectedly....and it has been one week and I am still having a very hard time dealing with her loss. I miss her terribly....my heart feels empty and I just want her back. She was technically still a foster but was not leaving here in my head:) It just seems so unfair to loose them so young, she was just a baby.....run free from that dreaded disease Little Lou, no more medicine, no more skin scrapings and no more pain. Mommy misses you more than anyone will ever know....you left the deepest puppy paw prints imaginable on my heart. Godspeed baby...until we met again.
Codabear
The Klein Family
Crossed over: 4/7/2007

My CodaBodaBear......I will forever miss that big old hugable head of yours. I rescued you when you were 13 years old and thought I would only have you but a short time...boy did you have me fooled! You lasted in my home another 3 years to make it to a ripe old age of 16 years....I always called you my Timex, took a lickin and kept on tickin:) You survived bloat, abscess surgery, cancer......I thought you might outlive me. I have to say you were one of the most handsome huskies I have ever met with that wooly coat of yours! You lived and breathed for your momma....oh and for telling off all the foster puppies and keeping thier little butts in line. I remember fondly the first day I brought you home, old and crickity and you spotted a green squeeky ball...and gave me a heart-attack when you play-bowed it! I should have known then that you had a few years left:)You loved to get on mommy's bed (I had to lift you up and down of course)...you would do that happy head rub on the bed...and then when I put you down...trot all around the house SOOO happy! I will really miss that happy head rub. At the end Coda, the sunshine left your eyes, I no longer saw that happy head rub, you couldn't get yourself up and more and the puppies were starting to boss you around. I felt sad for you...like you were losing your status and being degraded...and you were too great of a king for that. You would look at me with such a sad look in your eye, barely able to catch a breath anymore, unable to hold it until I could get you outside and I knew it was time to help you to the Bridge....even though it was the hardest thing I had to do...stop the Timex. It is very hard to watch the life leave your beloved dog's eyes, but Coda.....I know that you were not happy with the life you had here anymore, you needed to run free and breath easy and if that meant sacrificing my own sorrow to help you do that, then that's what it meant. I miss you and love you to death....until we meet again...my one and only special boy, Godspeed Codabodabear.... we had a good run.
Snoop
The John Peralta Family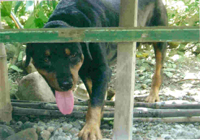 Crossed over: 3/29/2007


Dakota Lee Bennett
The Bennett Family
Crossed over: 1/18/2007

since i was a little girl i always wanted a wolf but knowing you couldn't have one was hard on me. so i fell in love with siberian husky's.one day after i got old enough to work and get good pay i deside it was time i get my dream come true so like always i would pray to god to send me a dog that was have wolf and siberian husky mixed.one day was all it took when i found what god sent me the most beautiful and caring wolfhybrid who was there for my every need and when it come my sad and awful time when i felt that the world and my life was giving up on me,she was there. she wasn't going to let me throw away life.when i came home one day i broke down crying from loosing a best friend and a grandma in one week. dakota came and climbed in my lap and looked at me so like always i would talk to her about what was going on.she was always there to listen.my family always said when i was gone from the house she would stay in the drive way till i came back.well 2 weeks went by and i was moving on in life.one day when i was coming home from vaction i come around the curve looking for dakota,waiting to see her and give her a kiss i rounded the curve and there she was laying there dead on the rd. i cried for months and still do. i miss her more than anything. one day i prayed to god and i heard a voice say she's with me. people can call me crazy but i will never Quit telling the story about how god had sent me an angel for me.as for dakota i will never forget her no matter what. she tought me alot.and i want to say i love her for ever more.and one dy i will see you again.in loving memory of.. *DAKOTA LEE BENNETT*
Niko
The Marshall Family
Crossed over: Jan 8, 2007

It has been more than 2 1/2 years, and yet there is still the same void that arrived in my heart the day I let you go. Niko was diagnosed with multiple myeloma in 3/05. He was treated with chemotherapy for 2 years, and never knew he was sick. I am so thankful for that. The minute I met him 13 years prior, he stole my heart. He was the best friend anyone could ask for. Even if you did not KNOW him, you could sense that kindness in his eyes. For 13 years, he was the most loyal, loving running partner. He is still missed so much. Until we meet again.