Jewell
The Pages Family
Crossed over: Dec 23, 2008

We got our dog in northern Vermont about 9 years ago when she was a puppy.Jewell made the mistake of escaping and getting into the neighbors chickens. We were gone but another neighbor said that there was a gun shot.My daughters have been searching for her for three days but we fear the worst. We feel like we have lost part of our family. We love you Jewell, Thank you for teaching us so much!
Mr. Coach
The Frances Veszlenyi Family
Crossed over: Winter 2008

Patogles Coach Star - So sorry I couldn't be with you at the end - I miss you so much. I remember how you got an idea in your eyes to bark to encourage our other dogs and us to look out the window so you can sneek and steal a slice of pizza and tip toe away with it. I remember when we wnt camping and you went missing only to go to the other side of the island to call a boat over to rescue you, then demand the boater lunch - he thought you were so funny and a very friendly wolf. I remember how you used to just walk away from home not run and end up at someones home to eat their food - cheese only!!! Mr. Coachy you were so much fun and so beautiful - you're with the others of our pack. Your mate Woofy - your sons Winter and Shadow and your soulmate Lupi. - I had to choose between you and Lupi, it would have been fun to have you both - I will never forget you - Mr. Coachy - the funny head.
Sherpa
The Parker Family
Crossed over: November 27, 2008

Our beautiful Siberian Husky Sherpa passed away today. He enriched our lives and we will miss him dearly…the house is already eerily quiet and empty.
We got Sherpa in August 2002, shortly after we moved to Paraguay. He gave us a few sleepless nights in the beginning, but soon his curious and fun-loving personality had won our hearts in a way that few animals can. Over the course of the next six years he made many friends wherever he went.
Our memories of Sherpa are too many to list here, but I think the one phrase that sums him up is "he makes me laugh everyday," which was just one of the many things that Konna loved about him. For me, he was my companion on many, many long runs and listened to my problems and frustrations without complaint.
He was my best friend and I will carry him in my heart wherever I go.
Sebastian
The Vershum Family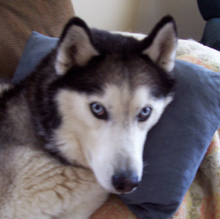 Crossed over: November 26, 2008

My bud Sebastian left me last week to head north of the Rainbow Bridge. He was 5 years old and I adopted him 6 months ago from a Siberian Rescue in Northwest Ohio and Michigan. From the first sight of Sebastian, I knew he was the one I wanted to be my life long friend. He was as loving and beautiful as a Husky could get. He had the eyes of an angel and made friends everywhere he went. I remember every time I would go to bed he would run upstairs and claim his spot on the bed. He gave me some of the best memories I could ask for and I will carry him in my heart forever.
Sebastian went into the Veterinary to be treated for pneumonia last week and was doing better with everyday that passed, I went in and visited him for 30 minutes Wednesday before they closed for the day and we went on a short walk and I gave him a belly rub and back scratch like he loved best and gave him kisses and told him everything was going to be ok and I would be back to bring you home shortly. He gave me a hug and kiss before he returned to his kennel for the night. Later that night they attempted to drain his lungs of the fluid build up in which he went from good to bad quickly, he passed away unexpectedly during the surgery. Later on they found out he had a large heart tumor the covered the whole right side. Though the short time we spent together and the great memories we shared, I find this by far the toughest loss I ever experienced. Sebastian will always have my heart and until we are together again, I miss you more than anything in this world and would do anything to have you back in my arms again. I know your smiling down watching over me, run free bud and I'll meet you at the Rainbow Bridge.
Cody (aka Wolfie)
The Blankenships Family
Crossed over: November 18, 2008

You're forever in our hearts our beautiful blue eyed boy! Run free at the Rainbow Bridge until we meet you there. We loved you dearly in your short little life it wasn't long enough and though we don't know the reason God wanted you back with him we have to learn to be patient until we can see you again.
Nykita
The Blades Family
Crossed over: November 19, 2008

Nykita was born in San Antonio, TX on April 15, 1993. He became a son of an Air Force family and kept mother company during many lonely days and nights. Later in life, he became a brother to a girl who grew up with him and loved him unconditionally; as did mom and dad and he in return.
Unfortunately, the end of life never passes by and affects all of us. Nykita left us for the Rainbow Bridge on November 19, 2008 at 1826 hrs. at VCA Conewaga Hospital in Hanover, PA after a short illness. Although we know that he will be waiting at the Rainbow Bridge for us, he will be missed regardlessly.
The Blades family and Nykita would all like to thank VCA Conewago Hospital for keeping him alive and healthy through the years so we would get to know and love him more, and more everyday. We love you Nykita and we'll meet again at the Rainbow Bridge.
Qiyan
The Fernandes Family
Crossed over: November 9, 2008

Our family adopted Qiyan on September 23, 2006 from Tails of the Tundra while living in Easton, Pennsylvania. He was a shy fellow and enjoyed our small dog, Dixie who seemed to be the boss. Qiyan grew to be quite the dog and loved his family over all. He protected us and barked at everyone.
We now live in Hemingford, Nebraska (small town) where Qiyan and our 8-month old black lab puppy got out. He was found dead on the railroad tracks with no marking of any sort. The puppy (Maggie) dragged herself home earlier that morning and is in very bad condition, she might have to be put to sleep to ease her pain.
Our whole family including myself Amber, my husband Larry, Oldest child Kelsi, Middle Dustin and youngest Makenzy are all in tears and will miss him so very much. He will never loose our love and we hope he is watching over us in Heaven and is happy.
Dixie is mourning very much as well as Maggie. Please wish hope for our family and pray to Qiyan, our pride and joy. We'll still be in heartache, but hopefully he'll be there for us.
Rocky
The Santos Family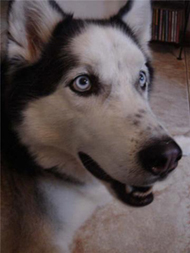 Crossed over: Oct 24, 2008

My beloved son by heart, Rocky, departed on 24th Oct. 2008, in Brasilia, Brazil. Rocky was from Humane Society, Florida. He was our child. We loved him so deeply and he knew it. Only now I was able to overcome my loss and make an honourable memorial to a remarkable "angel on earth". My always companion passed away when he was 8 yrs. I know he is now with the angels. Tears will keep dropping until we meet again in eternity. Love you 4ever. Your mom.
Rocky
The Einhorn Family
Crossed over: October 9, 2008

Dear Tails of the Tundra,
This is by far the most difficult email I have ever had to write. Our beloved angel, Rocky, passed away yesterday. He had been suffering with lots of old age ailments recently. He had developed, but then recovered from, aspiration pnemonia, small seizures, difficulty controlling his bladder, muscle loss and had trouble getting to his feet. He also had developed a condition where the flaps to his larynx would not open completely making it more difficult for him to breath during exercise. Though we will never know for sure, our vet thought Rocky to be at least 13 years old. Yesterday Rocky had a major seizures that left him unable to walk. The vet did an ekg and said that his heart rate kept dropping to 80 bpm. With advise from the vet, I made the final decision to have him put down. The vet said I gave him a gift in not making him suffer any longer. The vet was wrong. It was Rocky who gave me the gift; the gift of sharing his life and his love with us over the last six years. To say he will be missed does not do him justice. He will live on in my memories and heart for the rest of my life. Sincerely, Martine
CH Mochamco's Pathfinder (Keanu)
The Hess Family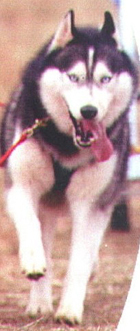 Crossed over: August 25, 2008

It's been almost 2 months. And I still think it's hard to walk in & not hear our "Monkey Boy" any more. He could make more noises that didn't sound like a dog. His best fete was he always knew a mile down the road that we were close to the dog show, even if he had never been there before.

Lobo
The Kroszner Family
Crossed over: July 8, 2008

Lobo passed over in July. He was a tremendous Siberian Husky and wonderful friend. He overcame adnocarcinoma at age 5 and lived almost 11 years beyond the 6 weeks they promised us. Lobo leaves behind a very sad human family of a Dad, a Mom, two sisters and a brother. He also is dearly missed by his two 4 legged brothers from Tails of the Tundra Rescue. We love you "Bo."
When we had to put Lobo down a friend sent this to me and I hope it will help others in some small way.
Dear Friend,
I know you are nervous as you pace up and down
Although I can't see it. I sense that you frown
You're sad today and yes, I know why;
The decision you've scheduled has made you cry.

Weep not for me nor what you must do
What a wonderful life I've had here with you.
Where could a stray with no place to go
Be accepted so easily by those he didn't know?

I've had freedom to run and good food to eat;
Children to play with and a warm place to sleep.
But the kids are now grown, they've all moved away;
And I've grown old and can no longer play.

I don't see anymore nor hear very much;
Sleep most of the time, respond slightly to touch.
Yes, my dear friend, I have given my all;
For sixteen years I've lived life to it's full.
I'm ready to go. Now is the time.
Let's go to the vet, don't change your mind.
You'll stay with me till I go to sleep,
And then bowing your head you'll softly weep.

Maybe not right away, but in time to come,
You'll understand you were my dearest friend

Author Unknown

Misty
The Yturbe Family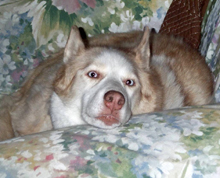 Crossed over: June 23, 2008

We lost the most senior member of our pack when we lost Misty. She was a pure bred Siberian that we adopted from an AKC store 16 and a half years ago. We knew she'd be trouble when the first thing she did in front of us was poop the floor. She was only 6 weeks old when we bought her. Because of her longevity there isn't enough space to relate all of our memories of her. But here are a few; as a puppy she barked at her own reflection in the mirror. She chased a black bear out into the woods. She needed to keep an eye at all the children who were in our swimming pool, even though she couldn't swim. She loved to help her dad in the yard, and to antagonize her younger brother Simba who was ten years her junior. As I said we have enough memories of her to fill a book. I will miss her most of all because I was her dad, and I think we had a special bond. Her picture is tatooed on my arm. Misty there'll never be another one like you. Goodbye puppygirl.
Guinevere
The Balchus Family
Crossed over: May 16, 2008

We lost our beautiful Guinevere on May 16, 2008. She was the absolute love of my life. She was a perfect animal in every way and she will be missed by all that knew and loved her. It was so sudden and such a shock, I will never get over this loss. She was my love and my life for ten short years..
Max
The Malone Family
Crossed over: May 8, 2008

Max. I miss you bud. It's hard to type this and not cry. Since that day dad took you to the vet that last time while I was at work I have not been the same. I still remember the nights growing up when you used to steal my covers from me when I was asleep on those winter nights and how you would wake me up for school and when you protected me from the neighborhood bully, the neighbors st Bernard that tried to attack me and protected Jenny from the German shephard that tried to attack her in the front yard. I also remember the blizzard of 1993 or the ice storm of 1996 you didn't know what to think. It was one of the few times it had snowed in Alabama I had never seen anyone be so happy in the snow or take a running start only to sit down suddenly and slide on the ice. I am truly blessed to have spent those 14 1/2 years with you. My wife says that I am a very loving, wise and compassionate person... I owe it all to you. You shared with me your love and compassion! You taught me to love indescriminantly. Your wisdom taught me how to be a good father and husband. You helped me get back to normal after coming home from the marines I can't thank you enough for that. When dad told me what he did I broke down. I literally cried for weeks. How can someone that brought so much joy also bring so much pain? Shadow didn't eat for almost a week and did nothing but howl for you. You always have and always will be my best buddy forever. You were my first dog and first Siberian husky. I can't forget you. You are always in my heart and mind. I can still remember the day my mom brought you to me. You were 6 weeks old and mom had brought you with her to pick me up from school. I was so excited to see you and from that moment on our hearts, minds and spirits were linked. I still feel alone at times but all I have to do is look down at my side and I still see you there looking up at me giving me that look as if saying "it's ok.. We can do this". I miss! you and love you very much. Till we meet again at the other end of that bridge. Wait for me and make certain the path is safe just like you always have. I love you bud.
Your best bud.
Disco (Hazlet 9)
The Terry & Cindy Miles Family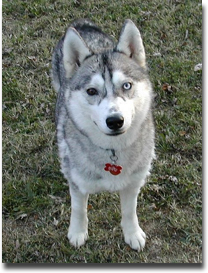 Crossed over: April 26, 2008

Disco was a member of the Hazlet Nine rescue and had the distinction of being the first dog adopted from that group. Disco was adopted from Tails of the Tundra on August 31, 2003.
Her mom writes, "Since Disco came from a situation with 28 huskies in one house, she was truly a pack animal. She got along well with all dogs and asserted herself if necessary but never using the authoritarian (in your face) style of leadership. She was very diplomatic. All love was on her terms, she was not a Velcro dog. She loved a long walk, and if you stopped walking she would become visibly annoyed and scolded you loudly until you started moving again. About 3 years ago, we were walking in front of the U.S. Capitol Building and a tour trolley was moving by us. The guide said to the passengers 'On your right, a Siberian Husky.' The tourists began to laugh, and we were so proud! We started calling Disco 'Our National Treasure.'
Disco was a beauty, a stone cold killer, and a Ninja. She was so quick with the wild flips, turns and twists, and she magically would appear and disappear. The backyard was her domain and she was all about the great outdoors. When she first came to us, she spent 23 out of 24 hours outside. Our backyard is now empty, and there is a hole in our hearts.
Disco has been a hard loss. Even though this is loss number 6 in our family of dogs beginning in 1987, this one was the hardest for me. Maybe it was too soon as she was only 7 years old. Maybe it was because she was very low-maintenance and so easy to care for. Maybe it was her chaotic beginning. I don't know, but her passing has left me sadder than any of the others."
Tasha (China)
The Chris, Lori, Alex and Jackie Halber Family
Crossed over: April 3, 2008

Tasha crossed the bridge this evening as a grande dame of 15+ years.
We love her so very much and will miss her more than words can say. As we grieve for her, we are comforted by her 2002 Success Story here at TOTTSHR.
We were blessed to have 5 1/2 years with her. We cannot thank you enough for allowing us to share our lives with her. We know she is finally at peace. We are a better family for having loved her.
Tiaga
The Hughes Family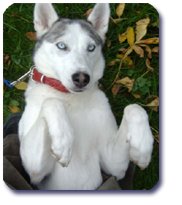 Crossed over: March 2008

Thank you so much for all the efforts and support from everyone involved in searching for Taiga. We can never thank you enough.
Her gentleness and playfulness will be missed greatly. She was a sweet girl. 'We will never forget you, Taiga..we love you!'
Shelly
The Megan & Trish Family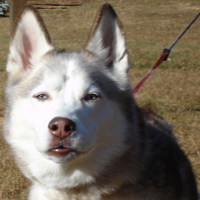 Crossed over: March 19, 2008

Our little Shelly. Such a precious little ball of fluff who instantly walked right into our hearts and will forever remain. Fourteen years seems like such a short time. We will love you always and miss you dearly.
Otis
The Foreman, Curiel & Harr Family
Crossed over: 3/1/2008

Otis lived in a Frat House in Philly her first nine months and then her first dad, our cousin, had to move and she moved in with her Mommy, Brenda. When she was 9 months old she was almost bald because of a skin condition and nobody knew that when her hair grew in it would be the exact same color as Brenda's! She was a very sweet but silly puppy who got into everything! When she was 8 years old she and her mommy moved in her aunt Judy & her uncle Harvey and she had three people who adored her! She really loved men...maybe because of her puppy years and Harvey always said that he was the closest thing she had to a Frat House. She was a very smart girl because her grandmom taught her almost every word in the English language.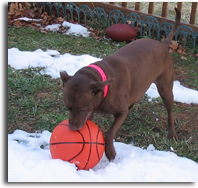 Ottie loved to play and play and play. Her heart could not make it any longer....probably it got so big because she loved so much. She was our little red angel, our peanut, our sniglet, our oatmeal and when she was grumpy she was our Mrs. Grinch. Helping you cross today was the hardest thing we ever had to do but we knew it was best for you. We miss you so much and we always will. You were our sweet little girl and we hope you don't try to fight Sebastian or Zen in heaven.
Canadian Misty Blue
The Garthwaite Family
Crossed over: 2/8/2008

Misty Blue as we called was very special to us. We got her when she was 6 weeks old. She loved to "talk" to us, she could make us laugh or cry. When my husband passed away unexpectedly 5 years ago. Blue told every one her sad "story". When it came time to let her go (she wouldn't go on her own), it was the hardest decision I had to make, because my children wouldn't make the decision. As I watched her and prayed that she would just go to sleep. The decision was made, that her final day would be on the fifth anniversary of my husband's passing. She had to get the last word in though. When we were asked how much she weighed, she got up on her own and walked to the scale. Canadian Misty Blue was 15+ years old. We miss her now and always will.
Czar
The Leone Family
Crossed over: 1/19/2008

A true,and loyal friend who will be missed with every passing day.
Nicholas Seaver Kolt Gee
The Gee Family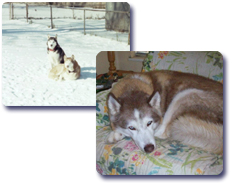 Crossed over: February 9, 2008

He was a cherished pet/friend to us and to his litter mate "Alexandra" for the 11 yrs and 8 months. Nick would still be w/us if he had not gotten sick suddenly, so he missed his 12th birthday by 4 months. We miss him dearly.