Tasha
The Calaprice Family
Crossed over: Aug. 7, 2009

Tasha the Siberian Husky died peacefully on Friday, August 7, 2009, at the Claremont, California, Veterinary Hospital due to multiple chronic conditions associated with aging. She was approximately thirteen years old.
Tasha's place of birth is unknown, but she was brought to live in Princeton, N.J., in September 2001, a week before 9/11, by members of the Delaware Valley Tails of the Tundra Siberian Husky Rescue group, which had rescued her from a dog pound in Reading, Pennsylvania. In Princeton she led a fine life in a big house with a huge backyard and two cats, Molly and Albert. Her best times occurred during the Princeton winters when she was allowed to run on the snow-covered trails of the Mountain Lake preserve. She'd chase an occasional deer, and scared many a Canada goose into flight as she approached the water's edge. Her worst known time was her cross-country relocation trip from New Jersey to California on Continental Airlines, during which she shredded her bedding into bits of cloth and polyester that floated out of the kennel when the door was opened. She was the sweetest of dogs and everyone loved her dignified demeanor, blue eyes, shaggy tail, and friendly smile. For the past several months she was no longer able to lift that shaggy tail over her back or hear commands and endearments.
Tasha is survived by Alice, who loved her the most; by Molly the housecat-diva who never considered Tasha her animal equal; and by the many admirers in New Jersey and California who thought she was the most beautiful dog they had ever seen. Joggers and dog walkers on both coasts directed the word "beautiful" at her so often that she answered to that word as well. She also leaves behind her girlfriends Allie and Shelby-- though of pure-bred lineage herself, Tasha never looked down her snout at these friendly mutts. She was predeceased by various felines and her stepsister Miyax the Samoyed, who died in 1984 at the age of 10-1/2, and stepbrother Misha the Husky/Sammy mix, who died in 1996 at the age of 15. Both have welcomed her into the Big Aurora Borealis Kennel in the Arctic Sky. Her small pile of ashes will be mixed with the earth under a California dogwood sapling.
On Tasha's last slow and painful walk, a speed walker called from across the street, "You have a beautiful dog!" Indeed. She will be sorely missed.
Ivan
The Jones / White Family
Crossed over: Jul 6, 2009

God I dont even know how to start. I guess I'll tell you he met my fiance first by freak accident. See he drove a truck then was at a rest stop by his suprise there sat the most beautiful thing ever with a note to the steering wheel saying "please take care of me (real name shanuck)". Well the loving man my fiance is he took him. Now Icome in to play my fiancee had him for about seven years before me but when Imeet him Iknew he would be my best friend and guess what, he was. I taught him to do things again he wouldn't bark (only for a slim jim). He meant so much to me we became the best friends forever, he was my fury friend forever. Don't know what I'm gonna do. I can't sleep. I cry everyday, hate going outside. Everyone tells me it will get better. I say to myself never. HE WAS MY POOMBALICIOUS if you could understand. The mornings are hard. I hate sleepin in my bed look for him. I cry everyday, kiss his picture, tell him I'll be there, wish he could be with me. I know things will get better, I hope, just wish he was here . Sometimes I think I can't deal but for all you mourning take it from me I'm sure it will get better. I know your house doesn't feel the the same cuz it doesn't to me, but I know he is here with me loving me as much as I love him. This is for Ivan I love you terribly I need you but I know you're better. I'll see you again, until we meet again your my boyfriend forever I love you.
Akira Skye
The Kenny Family
Crossed over: Apr 15, 2009

Akira Skye my beautiful baby girl, not a day will go by that I will not remember you aqnd your happy energetic sway your beautiful crystal blue eyes you were such a big part of our family and I will always look at your pictures and smile because youalways make me feel so happy. You were and always be my precious baby girl. I love you.
Kodiak
The Stack Family
Crossed over: Mar 30, 2009

My Kodiak was a rescue and I estimated his age to be around 13-15 years at his passing. He was the sweetest and gentlest dog you could have ever had. He was a great friend to my rescued greyhound Pepper Anne. He will be forever missed.
Boomhauer
The Parsons Family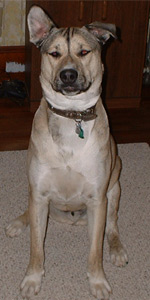 Crossed over: Feb 12, 2009

Dear Tails Family:
It is with great sadness and a heavy heart that I write this e-mail. On February 12, our beloved rescue dog Boomhauer crossed over the Rainbow Bridge. He had been very sick this past year and was finally diagnosed with hypothyroidism. He had chronic diarrhea and was just not acting like himself. Once we finally got the diagnosis, we thought we had the disease under control with medication. Unfortunately, the meds he was initially taking were bad for his liver. The secondary meds did not work for him and he continued to get worse every day. Our family had to make a decision to have him with us for maybe a few more weeks and watch him suffer, or let him go peacefully and ensure he wasn't alone. None of us wanted to see him go either way, but in the words of a TOTTSHR founder, "sometimes the right thing to do is the hardest thing to do". He went to sleep peacefully while laying on Lacey's lap at the age of 7 ½ years.
As some of you know, Boomhauer was part of a litter of pups born in our basement to a rescue dog named Hannah. We watched him during his birth, his puppyhood, and adopted him into our pack as his personality developed into a good, lovable, fun, gentle 140 pound lap dog with the best disposition out of the whole pack. The nick name I gave him as a puppy stayed with him his whole life…the baby dog! And that he was, a big baby with a big heart.