Reagan
The Kruft Family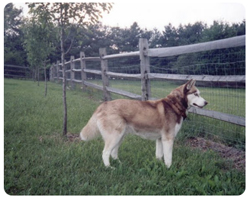 Crossed over: December 22, 2010

In 2002, my husband and I adopted Buster from TOTTSHR. We promptly renamed him Reagan for the dignity, gentleness and love we saw in him. A year later my husband passed away and Reagan and his Husky sister, Shania comforted me better than any friend or family member.
In the years that followed, Reagan was given many nicknames - Weegan, Pinkie Man (for his pink nose), Cellophane Man (he could hear cellophane opening from a mile away) and My Little Boy. Reagan died on Wednesday, Dec. 22 with me singing words of love in his ear. I believe he was my Husky soulmate that's how close our bond was. Shania, his Aunt Sue and I miss him so much.Goodbye my handsome man. You will be in our hearts forever.
Nicky
The McDonald Family
Crossed over: November 11, 2010

We adopted Nicky from TOTT thru an owner surrender. She was our first dog as family. I had always wanted a husky, and once the family met one the agreed that a husky was the dog for us.
Nicky loved to go for walks, and had her favorite routes. Many times she would tell us when it time for her walk. She was very well behaved on a leash.
I loved getting down on the floor and playing with her as if I was a dog. Grabbing her feet, wrestling her down, and ending with a good petting.
She has been diagnosed with a very aggressive cancer. The vet said we should think about putting her down sooner rather than later. Nicky has been very lethargic the last two days, barely moving, and not eating. We decided it was time. She will be laid to rest on November 11, 2010 about 10:am. We will miss her dearly.
Alexandra
The Gee Family
Crossed over: November 27, 2010

Oh where to start...She was such a bundle of joy and aggravation to be around. Alex could make us angry for peeing in the house to making us laugh with her sassiness. I always said she would be dangerous if she was a 2-legged female because she always had to have the last word.
She is now at the rainbow bridge reunited with her liter mate Nicholas catching up were they left off.
I'll look forward to being reunited with them both, but for now Sassy girl it bye for now. Love You baby girl.
Mylo
The Chelius Family
Crossed over: July 27, 2010

Born a dog: April 1, 2000

Dies a Gentleman: July 27, 2010


We miss you dude.
Lexi
The Curiel-Harr Family
Crossed over: June 20, 2010

Although you only owned us for a year, you left a deep hole in our hearts. You were such a good, brave boy who loved bely rubs and you would push on us when we stopped. You started a barking/howling contest at the hospital and the vet said to come pick you up early because you making so much noise. We thought that was funny because you were so quiet at home! You were our Lexington, our Lexinator, our Sniffingtons, our peanut and our baby-angel-boy. We know you did not feel good for a long time and we were so sad to have to let you cross. The three of us will think of you every day and see you on the other side. We love you, Daddy, Mommy Brenda and Mommy Judy.
Daisey
The Schrader Family
Crossed over: March 2, 2010

Daisey was taken from our family too soon. As a young 2-year-old puppy she had a lot of life left in her. She touched our lives with her loving blue eyes and her crazy howls in the back yard or when we came home from work or school. We will never forget our dear Daisey bird because everybody has heard the bird was, and still is, the word.
Tiberius
The Myers Family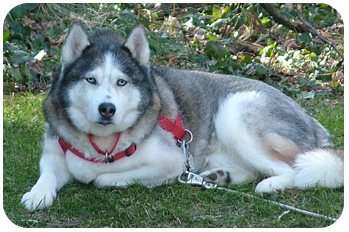 Crossed over: February 19, 2010

I got my beautiful boy from Tails of the Tundra. When he came to me his name was Ramses. He was a great companion for six years and he is missed very much especially by his brothers Ceasar and Endar. Thank you Tails of the Tundra for placing this wonderful boy with us.
Sky
The Green Family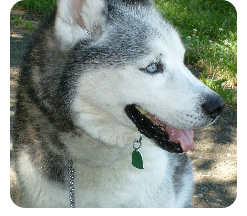 Crossed over: February 13, 2010

In July of 1999 we requested a young siberian husky for our son from the Long Island Siberian Husky Rescue and in the course of one day we were contacted because a young husky wandered up someone's driveway in the Coney Island section of Brooklyn and the family already had two dogs. They contacted the rescue mission and a match was made. Everything fell into place for us to welcome this beautiful pet into our family. The children named the dog Sky because of his beautifully striking blue eyes and we kept that name. He turned out to be well trained but was bleeding from his left rear paw, which had no toes and he also had a scar up that leg that contrasted his beautiful white fur. The vet who first examined him put his age at over 24 months, not the puppy we thought we were getting. As it turns out, he always hated the vet, but loved everyone else in the world. He traveled with us on family vacations to the Jersey shore, Boston, and he became a special companion for my wife and most important of all strongly bonded with my two sons. He would do anything for a biscuit, or human food. He was a strong fellow, surviving an attack of bloat in September 2008, enduring serious arthritis in the past year, but always ready to walk with us and if we didn't ask him, he would tell us it was time. He had an excellent clock in his head. On Saturday, February 13th, Sky crossed over to a more peaceful and pain free place, where he will be able to run and play like he did for so many years. Have a good walk Sky.
Queenie
The Young Family
Crossed over: February 12, 2010

Our beloved Queenie passed over the bridge with her entire entourage present. Queenie was a special girl indeed and touched many lives. She chose her friends, she chose her family, she chose her vet, and she chose who she would allow to take her on midday walks. She was comical, bitchy (in a good way), and a true angel in fur. The "Q" was a special and dear member of our family. She let children ride her, she raised a kitten, and she was quite the kitchen conosssieur with pasta, salmon, and pizza among her favorites. She passed quickly in the arms of all of her biggest fans.
We miss her terribly.
Nanook
The Diescher Family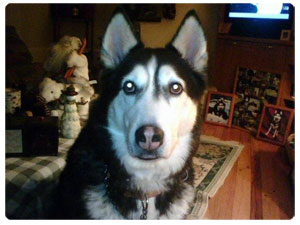 Crossed over: January 2th, 2010

Nanook passed in January of 2010 and my life has never been the same. He was my best friend, my confidant, and the best dog I have ever owned. He was 10 and I had pick him out of a litter of 12 on January 4,1999 and he was only 3 days old. I knew the minute I saw him that he was the one I wanted. He was given to me by a special family and I will always be thankful that they chose me to give him a loving home. The joy that Nanook gave me, I can't not explain but I can tell you he will always remain in my heart and soul. Until we meet again at the Rainbow Bridge, RIP my handsome boy, Mom will always love you....