IceMan
The Sisler Family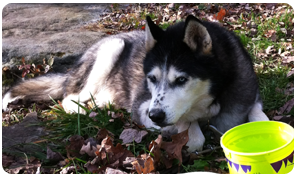 Crossed over: November 2011

Ice was featured in your foster success stories. When Don was diagnosed with Cancer and moving to Florida in 2004, we made Iceman our dog. Don was my neighbor in Dover PA and I was with Don when we met Iceman in Carlisle. I always walked and took care of Iceman. http://www.siberescue.com/Sfoster/Ice.html
He lived a great life. He had a rough couple years with some skin issues and arthritis but our vet said he was a strong boy. The Rimidel seemed to help. He almost made it to 12 years old (Dec 15, 1999). We will forever miss him. He was an ornery dog and we could never trust him lose because he would run and run and run!
Hurricane
The Raquets Family
Crossed over: Nov 1, 2011

We adopted Hurricane 2 years after adopting our first Sibe, Niota. I wanted a playmate for Ni, so we decided to adopt another Husky. At first we were leary of adopting an 8 year old dog, but once we met Hurricane, there was no doubt in our minds he was the perfect choice to bring into our family. the day we met him he won over our hearts when he went around our living room and gave us all kisses. He gave us joy, happiness, laughs and love. I know he was a happy Husky and while it's sad to have to say goodbye we were blessed to have had him as part of our family. RIP Hurricane...have fun playing with the pack upstairs!
Harley
The Celenza Family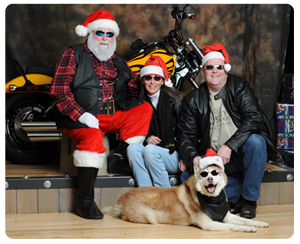 Crossed over: October 18, 2011

It is with great sadness that we must report Harley has passed. We will never forget Oct.24th, 2004, the day Harley came into our lives. It was the best decision we ever made. His age finally caught up with him but he did not suffer long. We know he in a better place and already trying to steal the other dog's blankets. We'll always be grateful he choose us and his memory will stay with us forever.
Simba
The Yturbe Family
Crossed over: October 6, 2011

Simba was another one of the six other dogs who've shared our home that sort of found us. It was September of 2004 when I got a call from his mom at work that a black and white husky who'd been wandering the store's parking lot had been lured inside and that I had to come down to see him. So as I'd done one time previous, I took the ride down the store to see what was what. Arriving there I saw a lean but muscular bi-eyed black and white husky. We agreed that this boy was coming home with us. He was introduced to our pack of two other huskies and a lab pit mix. They seemed to get along, but this new boy (we didn't know his name yet) was understandably skittish. It was also on this day he was introduced to "Aunt" Dale; a neighbor and friend with whom he'd form a lifelong bond.
His mom brought him to our vet to be given the once over. The doctor felt he was between three and four years old and appeared in good health. However he showed some signs of neglect, namely a chipped tooth and scarring on the tips of his ears from fly bites. A microchip, which was found told us his name; which the doctor said out loud and Simba immediately perked up. The chip was a mixed blessing because before he could become ours, we were required to contact his other family. We reached out to his first family to no avail. It seemed that they never updated any information on the microchip. Then we placed ads in the papers in the vicinity of where he was found. After several weeks, and no one came forward we knew that Simba was now ours! It was bittersweet, because we wondered how someone could just abandon such a beautiful boy.
He joined a pack that was entering their senior years. His personality was perfect; and though his energy level was high he was still a very mellow dog. Some early memories include him bringing a Milk Bone outside and burying it in the front yard. When his mom came down with a fever he cuddled next to her on the bed until she was well. He became her special favorite and 'best boy' from that day on. For a few weeks I also needed to literally run him around the block several times each morning to tire him out enough so he wouldn't try to follow me out the door when I left for work.
We had a run built just for him but he used it only a handful of times. He was afraid to be inside a fenced in area, perhaps a byproduct of his early life as was his lack of a desire to play which he never did outgrow. So as an outlet there were many hikes in the nearby woods, and lots of walks with his brother and sisters.
The years would pass by and one by one his pack mates would make the journey over the Rainbow Bridge. Simba was always there to help us through the grieving process that followed, perhaps not getting all the attention he truly deserved. Five years had past our young stud was now grey in the muzzle and a lot slower than that first day we'd met. Where had the time gone?
In early 2008, we decided that he needed a brother. We contacted TOTTSHR who visited us with three potential adoptees. Simba did not agree with our choices, but instead he 'picked' Juno who through a chance meeting became his new brother. Juno's high energy level and need to be crated meant that we would need a dog walker. 'Aunt' Dale came to the rescue again.
But all would change when in the fall of 2010, when Simba would be diagnosed with perianal carcinoma. He had two surgeries in the space of a month along with subsequent radiation treatments and handled everything like the trooper he was. The guarded prognosis gave him between twelve and eighteen months. Our time together after that became more precious. He'd walk with his brother, but seemed to prefer slow walks on his own with his mom or me. Stopping to sniff things that years earlier he'd just run on by.
Then one day his mom got home to a note from his aunt that Simba seemed weak and wouldn't take treats from her as always. Mom got home to find him weaker still, breathing heavily and unable to stand on his own. After getting home from work, we rushed him to our vet who after examining him gave a 'grave' diagnosis. X-rays would show nothing and there was no temperature. Fearing the worst, we then rushed to the emergency vets who would be better equipped to help us. An ultrasound revealed fluid in his abdomen and around his heart probably caused by a tumor. Any treatments would only prolong his life by a day or two; never to return home. It was a year after his cancer diagnosis and we knew we'd have to say goodbye to Simba preferring not to let him suffer any longer. We said our farewells and with a few last pats, Simba left us that evening.
He had a lot of human friends and for us and them, Simba will always be remembered for his gentle nature espeically around kids and his wonderful spirit throughout his life.
Nikita
The Goodwin Family
Crossed over: September 2011

Nikita was truely my gift from god and my inspiration. I will always remember how she was grateful for every day of life and lived as if everything was her first experience. She just couldn't take the stress of her brother, Nikko, leaving and was taken by the last and worst epileptic seizure she would ever have to experience.

My baby girl, your leaving was so unexpected and I just wasn't ready. So much left undone. You inspired me every day- from the day TOTTSHR brought you to my home until the day you left me.

I never looked at life the same since you came into mine and will always be inspired by your memory.
Nikko
The Goodwin Family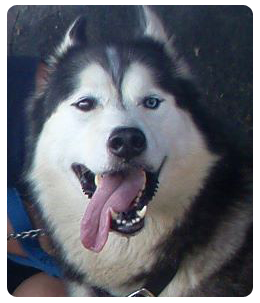 Crossed over: September 2011

It is was great sadness that I had to let my boy Nikko go to god. He was diagnosed with inoperable cancer on Valentines Day and given 6 weeks, so we were very grateful for the time we had together. He was my heart and spooned with me every night for over 10yrs. I was blessed to have you in my life Nikko.

We fought the good fight and I know you were so very tired my baby and just needed to be at rest.

The day you let go of a huskies leash and yell run, run, just run and they don't, it's time to let them go to Rainbow Bridge. I will always remember that day...

I will always hold you in my heart baby boy.
Shyan
The Davis Family
Crossed over: April 2011

Shyan has passed on from Liver Failure. She was a great Husky and we have enjoyed all the time we had with her since her adoption in May 2002. She had a great personality, was great with kids & babies (especially her human baby sister Michela), other dogs, and even cats. She was very loyal and loving and will be dearly missed.
Adara
The Visci Family
Crossed over: April 6, 2011

Adara...Our Maiden of the Skies, no star is brighter. We see you every night to the galaxies' delight. 0ur plight is to your flight where the night also has a light. The tundra melted a bit as you are an integral part of it! The snows will shimmer and we'll see but a glimmer. But...we will go on even though our hearts are forever dimmer, without your youth and vigor!
Cody
The Cole Family
Crossed over: March 19, 2011

What can I say about such a sweet and loving girl. I was the proud human of Cody for 12 years and loved every moment of it. I have to admit I didn't want her at first when my (now ex) husband wanted to get a dog. But when we divorced and he left her behind with me it was a joy to come home to her beautiful blue eyes and wagging tail. She dazzled me with her magic and I was hooked. In the last year she had become crippled in the hind legs and in the last few days I had to carry her up and down the stairs. She crossed to the Summerlands on March 19th in my arms at the ripe old age of 15 and is running free as all Huskies long to do!
Leah
The Trush Family
Crossed over: March 7th, 2011

Leah was a special girl that we adopted from the good people at Adopt-A-Husky. She was five years old when we welcomed Leah to her forever home. Nine years later we said goodbye and helped her to cross the Rainbow Bridge to be with Jordan, our previous beautiful Husky. Leah will always hold a special place in our heart. She was a gentle dog with a loving personality. It's hard to say goodbye, but I know she is in no pain and can run and play again. We will miss you girl.
Kirby
The Schoenberger Family
Crossed over: February 8th, 2011

Kirby was our good, loyal friend for many years. He battled cancer for the last four years, and never gave up. He endured surgery several times, and always bounced back and continued to thrive. This last year he just about beat the cancer with experimental drugs. Unfortunately, his rear legs started to fail him. While he had a great weekend, Monday morning came and he was no longer able to get up and about by himself. He was never in pain, but would have no quality of life if he could not get around. We made the hard decision last night, and this morning sent him on his way to doggie heaven. He is survived by his adopted brother and sister Trent and Kaybee. Kirby you will be missed but never forgotten.
Kirby 3/28/1996 – 2/8/2011
Feo Butters Struod
The McArthur Family
Crossed over: January 17, 2011

Butters had a hard life to start, but we hope he enjoyed the last couple of years. We fell in love with him the first time we met him, and will be feeling the loss for years to come yet. He had a personality that could not be replicated by any other dog. When he was hurting he still always had that Butters grin that you just fell in love with.
His last couple of days we hard on all of us especially Butters he could not understand why his legs were not working, and we know that know he is running in Heaven and waiting for his sister to join him so that he can finally out run her. RIP BUTTERS we love you and miss you.