Oslo Bear
The Henriksen-Owens Family
Crossed over: January 11, 2012

I love you and am SOOO happy I got to be your Mommy. Fate introduced us and in destiny we will be together again. RIP Buddy Bear, you are one of the most wise, loyal, intelligent, and beautiful good-boys this world has ever known! XOXOOOOOO!
Click to read the poem.
Heidi (formerly Mischief)
The Haggerty Family
Crossed over: January 25, 2012

Our beloved Heidi has lost her short battle with Kidney disease. In October of 2000 we met Paige and TOTT at our local Oktoberfest. We were new to Doylestown and this was one of our first local family outings. We just happened to come upon the TOTT booth. We had lost our first Siberian a few years before this and we always intended to one day replace him. So finding TOTT was a perfect fit for us.
In a few days TOTT introduced us to a red haired beauty named Mischief, but we changed her name to Heidi since she loved to hide under table. She was about 7 months old and had been neglected, which it showed in her weight and trust of people. But before long she was queen of her castle and looked forward to meeting new people every time the doorbell rang. With good reason since anyone who met Heidi would say what a pretty dog and what beautiful eyes.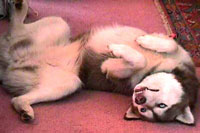 She just loved the attention and good for her since she deserved it. Who knows what happened that led Heidi's short life to wind up in a kennel on her way to a fast end if not for the saving grace of Paige and her crew. Those were the early days of TOTT and I never knew how they did it all, always on the run to rescue another Husky soon as a call would come in. One thing I know is their love for the breed and commitment of their volunteers and all the families who opened their homes to the short and long term care of the rescued Huskies is what continued to make TOTT a success year after year.
I personally always wanted to volunteer more than just the adoption of Heidi, but through the years my MS made it harder and harder for me to realize that dream. I guess that is why I always admired Paige's energy level and drive she's had for these wonderful friends to man. If not for TOTT we never would have met Heidi. For the past 11 years she has been nothing but fun and loving and a true and loyal friend.
Unfortunately none of us can be together forever, well until we pass that is. About two weeks ago Heidi started losing her appetite, but we thought it would pass. Then this past weekend she had basically stopped eating and took a turn for the worse. Monday we brought her to the Vet and she seemed to perk up so we still had hopes of her recovering. Maybe it was her love for a ride in the car or all attention she was getting at the Vet, but we thought maybe she'd pull through whatever was making her sick. We still didn't know how sick she really was and that she was in end stage Kidney failure. She was such a tuff cookie and never complained so we had no idea how sick she was till it was too late. Last night 1/25/2012, about 5:30 Heidi went to sleep forever.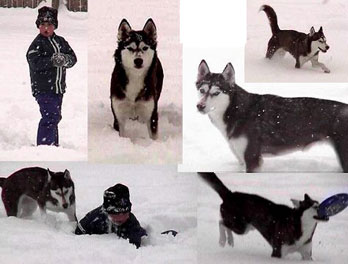 She joined her old pal Ushi and 11 year old Akita also a rescue who we lost to Cancer last year this time January 13, 2011. We adopted Ushi about a year after Heidi so they were good old friends to each other. When he passed away last year Heidi missed him terribly and she was as heartbroken as we were. Today we are heartbroken once again at the loss of our beloved Heidi. We hope she is running happily as the day she came to live with us.
God Bless you Heidi and TOTT.
Carole, Michael & Joey Haggerty
Carlin
The Steffani Family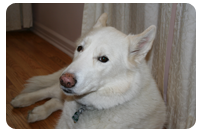 Crossed over: January 10, 2012

You brought Carlin to us 11 years ago. We knew right away that we were meant to be his people. He was joyous and rowdy and amazing. He was my winter running partner and my son's playmate. We will miss him dearly. Thank you for helping him find us.