Hello,

My name is Robin Roberts. Three summers ago, my family lost our 13 year old Chesapeake Bay Retriever, Pumpkin. We'd had her since I was 5 years old (I am now 20), and she was a part of the family. Two weeks later, we decided that we could live with a dog no longer, and we headed to the local Animal Control Center.


I'd wanted a Siberian Husky for years, although I'll admit that I knew nothing about them at the time. However, I missed the beautiful pair of yellow-gold eyes peeking out from behind a doorway--it wasn't until my dad spotted the five month old dog named Star that I saw the little black and white girl who wanted a home. He called me over, and unlike every other dog in the place, she only licked my fingers and cried.

My family fell in love, and we took her home. Although the former owners (who we later discovered had abused and neglected her) insisted that she was a full bred Siberian, as we learned more about the breed, we realized that Star was a wolf-husky cross. However, nearly every characteristic she has comes from the Siberian side (except for those beautiful yellow eyes), and we love her to this day. Even when she proceeded to eat the bottom two rows of ornaments off of our Christmas tree, we knew she was something special.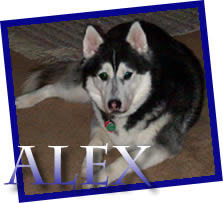 That was about the time that we realized that she was lonely, even with a teenager and two retired parents. But we were very lucky. One day, my mother was thumbing through the classifieds and saw an add for a 6 year old Siberian Husky, AKC registered and free to a good home. His family had 2 cats, a new baby, and was moving. The husband had decided something had to go, and since he wasn't a dog lover, it had to be the Husky. When my parents went to pick him up, Alex never even looked back. Like our first Siberian, he'd been neglected. Alex had never learned to play with toys, eat flipchips or any other dog treats, or even play with people. The only other living creature he seemed to understand well was Siamese cats, because he had grown up with two of them. Even then, he was one of the most kind and lovable dogs you could ever meet, despite being coated in dirt and looking more gray than black. He came into the house wanting to be cuddled, despite weighing almost a hundred pounds.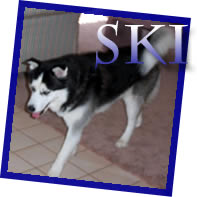 He and Star fell in love immediately. Since both are fixed, there's never been a danger of puppies, until we brought home a third husky. This little boy I discovered in a pet store, sick and miserable. He had kennel cough and was the loneliest puppy I had ever seen--but he looked exactly like Alex, and when he stared up at me and howled, I was gone. He came home, too, and met his "parents" who promptly decided that the stork had paid them a visit and this puppy was their own. From that moment on, Ski was a rambunctious and happy puppy, who had only wanted to belong. Our biggest problem now is convincing our 2 year old Siberian that he doesn't need to sit in your lap. He's fascinated by ears and by toes, and wants nothing more than to hear you laugh as he tickles you with his tongue.

All three of our huskies enjoy running around in our big backyard, but as we live in Florida, they are definitely inside dogs. They can be a noisy little pack (especially Alex, who never "talked" at all in his old home, but now can't be shut up when he's happy), but they win over every visitor we've ever had. Almost every day, we have kids from around the neighborhood knocking on the door and asking to play with the Huskies, and if you've ever seen Huskies and kids, you know that they're in heaven. We take pride in the fact that we rescued two of our wonderful pets from being put down (Star was days away from meeting her end, and Alex was about to be turned over to Animal Control, where he probably would have had the same fate), and Ski is simply the happiest dog you've ever met.

Attached are pictures of all three Siberians. The group picture shows the three of them as they usually are--no more than ten feet apart and happily cuddling. The giant husky is Alex, who although he looks humongous, actually has shoulders that wide! The smaller girl on the right is Star, and the "puppy" in the middle is Ski, who is still convinced that the older two are his parents. Together, the three of them keep my parents company when I'm away at college and have turned us into a family that will always have Siberians.

Thank you for all the wonderful work you do with Siberians. I stumbled upon your site by accident, but I'm glad to have found it. It's wonderful to hear of huskies who have found such wonderful homes.

Robin Roberts