Jay writes in May 2013:
Babbie will be 17 in July. She is still doing well. Check out the latest photos.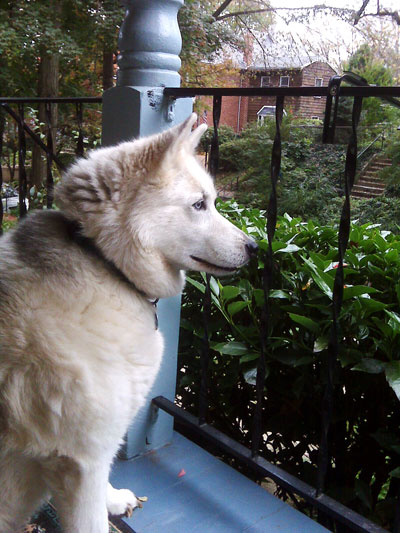 Hello,

My name is Jay, I currently live in Baltimore, MD. I had moved to Dunedin, Florida in October 1996, but I had to leave my little girl Sandi (Golden Retriever) behind with my parents. We at the time had a white German Shepard (Major) and Sandi, I did not want to break them up, so I left her with my parents.


Four days after my arrival in Dunedin, I went to the Pinellas County Humane Society in Clearwater to look around. I found two very pretty part Siberian Husky part German Shepard 4 month old puppies. One was brown, white, black, & light gray with the left eye blue and the other brown, he had a twin sister but the eyes were reversed and where there was brown on him she had black & where there was black on him, she had brown. I could only afford one at the time & my room mate would not let me bring home both. The female was a lot more personable than the male, so I purchased her.


Her name is Babbie. The first day I had her, I could get her to sit, lie down, roll over, stay, and come all on both verbal and hand commands. And NO, she did not get fat from the treats! She was and still is a very smart friend. I moved back to Maryland in May 1997 & of course brought Babbie back with me. She and Sandi got along but Sandi was of course jealous, and Major didn't care.

In Sept 1998 Major had to be put down & my parents got "Shadow", another white German Shepard. For about 2 months, neither Sandi or Babbie would
have anything to do with him, then all of a sudden Babbie & Shadow were playing, jumping, eating out of the same bowl (yuk) and are still great friends. Meantime, while I was working as a bouncer, I saw a car pull up to a park at the end of the street and let out a huge brown thing with 4 legs and a long tail and looked like it was bigger than me. Well, it came right to me. All 95 lbs worth of him. He is now about 160 lbs and is named Hootch. He is an English Mastiff. Babbie is the alpha dog weighing in at about 60 to 70 lbs, Shadow is about 120 lbs, Sandi about 80 lbs and the oldest,
and then Hootch. I'm still trying to figure out how Babbie became the alpha in the kingdom. We put Sanid down last Oct after 11 wonderful years with her. We now only have the 3 dogs.

From the time my parents got married in 1968, we have had Rebel (German Shepard) {rescued}, Satin (Black Lab) {rescued}, Shannon (part German Shepard & Akita) , Sandi (Golden Retriever) {rescued}, Major (White German Shepard) {rescued}, Babbie (part Siberian Husky part German Shepard) {rescued}, Shadow (White German Shepard), Hootch (English Mastiff) {rescued}.

As you can see, out of 8 dogs, six were Rescued. They were either bought from a Humane Society or SPCA , found on the street, or given to us. I support all organizations which help with animal rights and the adoption of them. I encourage everyone to get their animals from an organization or organization backed breeder.

I have a small zoo in my house with 3 dogs, 3 ferrates, 2 rats, 2 birds, hermit crabs, fish, Ginny pig, and a bunny. I'm trying to find other animals, but dad keeps yelling. I have no idea why! (Ha Ha)

Jay Tinker
Roland Park, MD