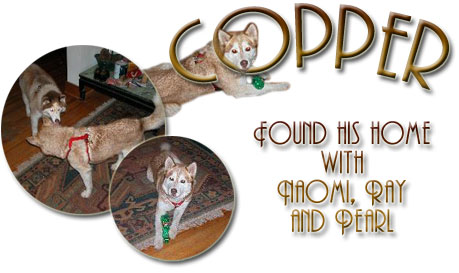 September 30th, 2003 Copper's new mom writes:
Hi Everyone,
We were a Happy family of three.. Me, Ray and Pearl.. I have had Pearl since she was 8 weeks old.. She is the love of my life!!! She is my red and white blue eyed baby girl. She is seven. Things for us were great.. I thought that the addition of another Husky might make the mix even better.. If I could find the right dog to add.... I thought that Pearl might like to have someone to pal around with while we were at work..

I decided to go online and see if I could find a group that might be able to help me.. I had been in contact with breeders and vets in the area but was not able to find an older husky. I wanted to find a dog that needed a home
that was around her age..

I found Tails of the Tundra and then I found Copper!!!! I am sure that many of you saw his photo on the web site.. He was a cross listed dog all the way in West Va!! What a cutie! I do believe in love at first sight!! The smile on his face told me all I needed to know! He was a long way from us in western NY...I had to find a way to get him and Pearl together...

In stepped Rita... She offered her home and yard so that they could meet and play..We finally coordinated a meeting in August...Pearl had a great trip to Pittsburg and met all four of Rita and Tony's Clan.. They had a good time together.. Pearl had never seen so many Huskies at the same time....

Then the BIG moment came...Copper arrived, fresh from the groomers looking his best! They got along very well. We loaded both dogs into to the blazer( we rented a bigger SUV for the trip) and started home to NY....It was a little tense for a moment but everyone settled down after about the first 1/2 hour. We stopped frequently on the way, for pee breaks and leg stretches...We arrived home later that day..

Having a husky helps prepare you for #2... I have the experience needed to pre think most situations... For the ones that I could not work out Rita and Scott were very helpful...

The first two weeks were busy... We had to get the new routine set up and get the troops in line.. Copper was great. He spent his life before us, outside.. I was not sure how he would react to the freedom inside ..We monitored his inside time and gradually let him have full freedom in the house. He only peed in the house once. He always goes out side.. He loves to scratch the ground after so he prefers outside! We have a large fenced in area with a 4 foot fence. We have a special 6 foot area that they can go into during the night if they need to go outside. I often hear the swing dog door late at night.

He has been with us for a month now and has settled into our family very well. He displays many of the same traits that Pearl does but also has some cuties that they don't share. One of my favorites is the bed swimming... he scoots around on the bed on his side... he's sooooo funny! He rolls around and get Pearl howling..

It took a few days to get a kiss and two weeks for Ray to get one... He came over one night and planted one right on his cheek.. Ray was surprised and very happy... Copper has not had a lot of positive contact with men and this was a
wonderful event....

We are now a happy family of 4.. We all get in the tracker and go for coffee together on the weekends. We do not fight over toys or food.. we all play well together. WE go on hikes and long walks. We are so happy that he is with us!!!

Thanks TOTTSHR for all the great things that you do. Thanks for helping us round out our treasure chest of Gems!!!

Cheers,

Naomi, Ray, Pearl and Copper!