The biggest danger of fostering a husky for the first time is establishing a bond that will never let go. Poor Ice Man had been shuffled around from owner to owner, to shelter to foster, to potential new home, and back again and all he wanted was someone to understand his big goofy huskiness! That time came when one of our volunteers, Don Yetter, took the responsibility for fostering Ice and fell in love. We all could tell from the e-mails that Don would fail fostering 101 (don't fall in love), but it was a match meant to be.
Apparently, before heading out with Ice for an adoption appointment, Don indicated that if the adoptive family chose another dog over Ice, he would keep him! On October 20 Ice formally found his forever home with Don.
We'll let you know if Don learns his lesson with his next foster... But in the words of Ice's former foster dad, we're glad that Ice Man is "staying in the family."
November 2011 Ice was featured in your foster success stories. When Don was diagnosed with Cancer and moving to Florida in 2004, we made Iceman our dog. Don was my neighbor in Dover PA and I was with Don when we met Iceman in Carlisle. I always walked and took care of Iceman.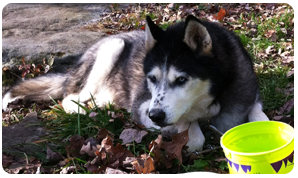 He lived a great life. He had a rough couple years with some skin issues and arthritis but our vet said he was a strong boy. The Rimidel seemed to help. He almost made it to 12 years old (Dec 15, 1999). We will forever miss him. He was an ornery dog and we could never trust him lose because he would run and run and run!