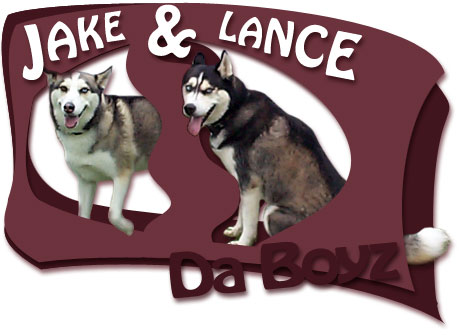 JAKE WAS ADOPTED AUGUST 11th, 2000
LANCE WAS ADOPTED OCTOBER 3rd, 2000
Jake was no longer wanted by his previous owners. His kind neighbors would pitch in to give him the water, food and love he needed. One neighbor learned of Tails of the Tundra Siberian Husky Rescue, Inc. from a Channel 10 broadcast and quickly contacted us.
Soon after he was taken into a loving foster home. It wasn't long before his permanent home found us and soon after adopted him. He is now living with a family that deserves him.
He is well taken care of and loved by his family of two-footers and one fellow Siberian Husky named Lobo.
The Lance Man came into rescue and touched everyone's hearts. There was no heart he couldn't reach, except of course the family who left him in the shelter. However, there was only one place for Lance and that was with Jake and Lobo.
Lance quickly jumped into the routine at his new home. Learning the ways of the house and the ways of how to pull a sled too!
Together this fearsome threesome run their humans and most certainly own the hearts of their new family.
A Merry 2000 Christmas for Da Boyz!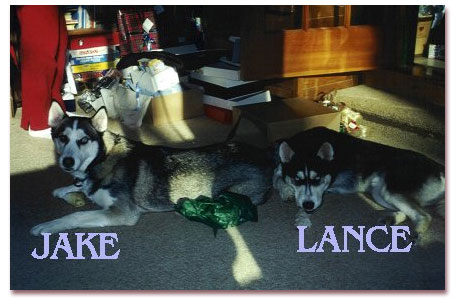 A Visit from Da Boyz
at the 2002 Peddlers Village Rescue Fair!