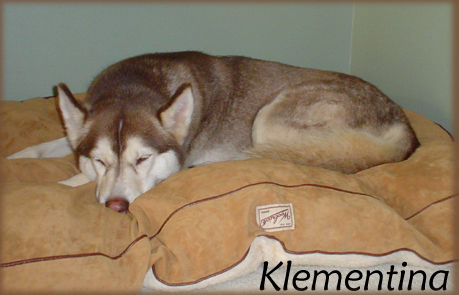 Klementina (now known as Clementine), was a 3 yr old Sibe who didn't have the best beginning to her short life. She was with some people who were not properly taking care of her, and came into Tails of the Tundra lacking in socialization and timid in new situations. Even so, when her foster mom saw how well she got along with her male Siberian (who never liked a female Sibe before!), she knew that this darling little red-head was destined to stay. This shy little girl worked her way into the hearts of both her foster mom and brother within a matter of days, and is now in a new home that will help her get over her fears of new things, and blossom into the happy, social girl her foster mom knows she could be!
Her foster mom writes:
Clementine is a quirky little girl, who I suspect has a lot of personality hiding behind the shyness. Every once and a while she will come our of her shell in a burst, and race around the house with carefree abandon! She loves her foster brother and does well with other dogs, although she can be nervous around very large dogs. With a lot of love and patience, I have no doubt that this adorable little girl will learn that surprises aren't bad, and new situations and people have all kinds of good (and tasty) things to offer.