As the saying goes, "Good things come to those who wait."
Beth Anne, Brian, Jacob, Andrew, and the family cat Chesapeake wanted to adopt a Siberian Husky - but everyone agreed it had to be the "right" one that wouldn't consider Chesapeake to be dinner!
After patiently waiting for the right dog to come along - there came Misha to the TOTTSHR owner surrender program. On February 22, Misha met her new family and it was love at first sight.
A Tottshr volunteer wrote, "Needless to say, Misha found her home today. What a GREAT dog! She was awesome with the Keates kids - couldn't care less about the cat and just all around a perfect starter Husky.
She actually seemed to prefer the kids over adults. She was doing sits and giving paws to the kids. I am so excited for Misha and her new family!"
Update from Misha and her family 4/26/09:
Misha is doing great with the kids and Beth and I she is a full fledged member of the family. How are things with you? Misha is doing better and better on walks and is a reaaly great dog . Here are some pictures from the mountains at the lake two weeks ago. Have a great day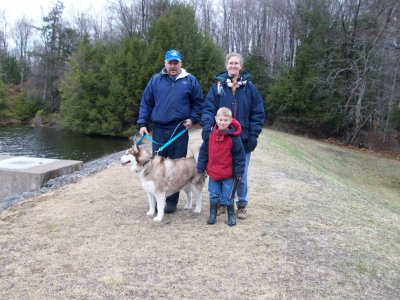 Update from Misha and her family 6/24/09:
Here are some recent photos of Misha in the mountains. She is doing great and we all hare having great fun. She (Misha) probably thinks she was given to an exercise camp, but she's getting used to it.
Update from Misha and her family 2/3/10: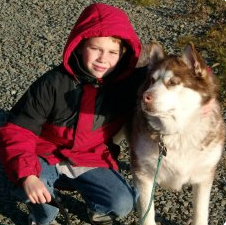 Misha is doing great! Here are some more pictures. Misha also got on a ferry with us and went to Nantucket Mass this past summer. She did well!