Roan found his forever home January 20, 2008
&
Razzles joined him later in the year!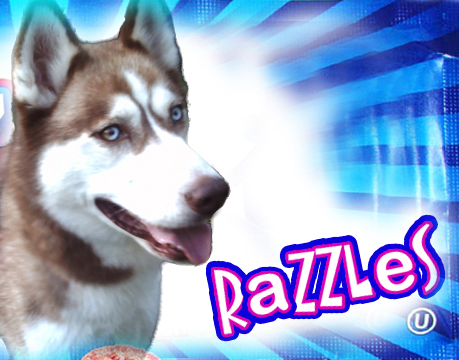 March 2009, The family writes:
Roanoke and Razzles found their forever homes in 2008
It all started one day when my Husband saw Roanoke (now GRAVY) on the adoption page. It was love at first site. We had a Chocolate Lab in our home already (Biscuit). She was 14 months old at the time Gravy came to us which was 20 January. Gravy took to Biscuit just the way their names do. To think he was 2 hours away from being put down prior to TOTTSHR rescuing him. Gravy is a very rambunctious, loveable Siberian. The boy can run and run and run. He's very graceful in his jumps and loves to sleep on the bed right next to his Dad every day.
We spotted Razzles some months later and I fell in love and wanted to meet her. The meet went pretty good with Biscuit and Gravy. Razzles found her forever home 4 November. She is VERY talkative, and will let you know what is on her mind, even if you don't want to know. It took her a little longer to adjust to the routine than it did Gravy, but she is doing just fine now.
Biscuit, Gravy and Razzles-our home is very complete with our 3 furry children. Thank you TOTTSHR.