Sheba found her new home in March 5, 2005 with Bohdan and Patti and their husky, Beauty.
Update March 29, 2005
We received Sheba 3 weeks ago by an owner referral. She is doing very well and has adjusted to our home. She is now just like our other dog Beauty, equal with toys and treats. Each trying to outdo each other by catch me if you can. Wherever we go people love to see the red and white Sheba, what a beautiful color they say. Thanks to all at Siberescue. Bohdan and Patti.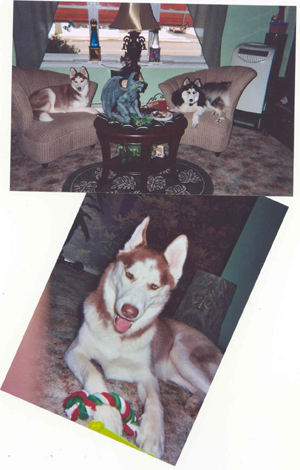 Update March 13, 2006 from Sheba's new mom
Sheba and Beauty got their shots on Tues. Both were peeing lots! Later on Sheba was peeing several places and trying sooooo hard to do same. By around 8:30 she was actually screaming while peeing as I heard her from the third floor! She would pee normal and keep doing smaller ones which contained blood. Called emergency and they said the shots were just coincidence and it sounded like urinary tract infection which is what I thought except for the screaming and Bohdan saying the blood wasn't in the first pee. Took to vets next morning and found she had passed a kidney stone so large it tore her lining. When we took the urine sample to the vets, it contained blood clots and lining mucus. He gave her a shot and pills for a week. Only a little blood after peeing until today and we are keeping her resting except for her walks which she looks forward to. Good news when X-rayed, no other stones, YEAH! Bad news, she already has arthritis on two places on her spinal cord. Dr said by the time she is six, she's not be able to stretch out like she likes to now?! We'll have to wait and see. Thought you would like to know!