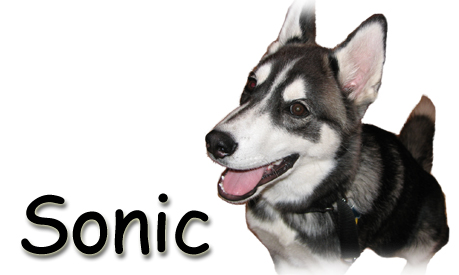 Sonic came into rescue at the age of 5 months; he was just a baby! Well now he his all grown up and is about 16 months old. He has not changed much in the past year as he is still happy, energetic, and also a little mischievous. Sonic was adopted out and lived with his new owner for five months but needed to return to rescue because he has a condition called Addison's disease. Although his medical condition is stable, his adoptive parents felt that they could not monitor him properly and decided it would be best if he came back to his foster mommy until he found a new family that can be home a little more.
Addison's Disease occurs when a dog is unable to produce one or two hormones, so those hormones must be replaced or supplemented artificially. This means that Sonic will need to stay on medication for his whole life. He doesn't mind though. Since his diagnosis he has been fine and doesn't mind the shot he needs once a month to stay healthy. Addison's dogs have great strength and energy and with proper treatment will live a full and healthy life for many years. The bottom line is that Sonic needs an owner who will manage his health and treat him just like any other dog. He will have it no other way!
Some informative links about Addison's Disease:
http://www.vetinfo.com/dencyclopedia/deaddisons.html
http://k9addisons.com/
http://www.addisondogs.com/addisons/whatis.html
Here are some fun facts about Sonic:
Sonic loves to hang out in the shower; watch out he also likes to eat bars of soap! Silly boy?
Sonic is dog friendly. He loves all dogs and will even roll over to get his belly sniffed by any dog who is interested.
Sonic loves tree branches and likes to bring them in the house as a surprise for the family.
Sonic is cat friendly. He lived with a cat in his previous home and did well.
Sonic is invisible fence trained.
Sonic used to be a recreational sled dog but now will just have to watch the races.
Sonic loves his people and lays his head on their chest so he can fall asleep. He likes to have his nose stroked, it makes him pass out.
Sonic is a big talker and kind of sounds like Chewbacca from the Star Wars movies although Sonic is much more handsome. We even call him Chewy for short!
Sonic gives hugs by putting his head on your shoulder.
Sonic is the life to the party and has tons of love to give. He is the class clown and Valentino wrapped into one.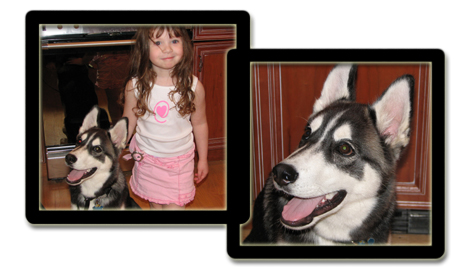 A Note From Sonic, August 16, 2007:
"I decided to stay here. Thanks."
-Sonic"