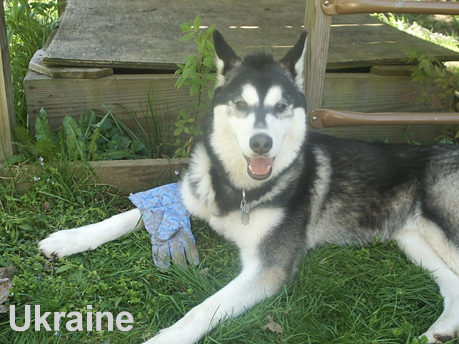 Ukraine found her forever home with her foster parents, Tina and Nick, and her foster sisters Skyler, Nia and Shianne, in April of 2006.
In the summer of 2005 we got a call about a shy Husky girl at the Central Pennsylvania Humane Society. Her name was Zoey. It was her second time at the shelter... she had been returned by her owners because she was afraid of their other dog. Since she had been returned to the shelter already, she was not considered a good adoption candidate any longer, and rescue was her only chance.
She was taken into foster care where it was determined pretty quickly that this puppy, nine months old at the time, did have some issues with other dogs. Renamed Ukraine to fit with TOTTSHR's theme of Russian names, this "scaredy-cat" turned out to be a food guarder and needed a lot of training to overcome the issue. She was also very timid with men, no matter how quiet and gentle.
Meanwhile, other foster dogs came and went, and Ukraine, nicknamed Uki, was always a bridesmaid and never a bride. She grew to get on well with her foster sisters and became very close to her foster mom, although she was still hesitant of her foster dad, who was always kind and gentle with her.
In April of 2006, Ukraine's foster mom lost her own dad very suddenly and unexpectedly. While of course the death could not be explained to Ukraine, she seemed to understand and went out of her way to comfort Tina and make her laugh through her tears. At that point Tina and Nick made the decision they had tossed around for several months already, and made Ukraine a permanent part of the family.
Ukraine now happily presides over her home and even recently welcomed a new foster sister. Finally the bride, Uki is living happily ever after.