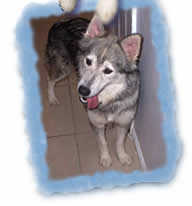 Weather, the girl who was looking to give her love to the right home—a home that will always have enough room for her and will never shove her aside because "there are too many dogs"—has found that home with her foster family. Eric and Karen welcomed Weather as a permanent part of their family on January 29, 2003.
Weather is also welcomed by her canine sister Sasha and canine brother Ray. It was actually Ray that made the final decision for the family. Sweet Ray, who once was terrified by any dog who wasn't Sasha, asked Weather to stay by play-bowing her and engaging her in a super play session.
So Eric and Karen have failed Fostering 101, but as they said in the beginning in reference to Weather's former family who dumped her, "their loss is our gain." And, we must say, it is certainly Weather's gain as well. We wish the new family all the best.
Best of luck and snuggles, little Weather Featherhead!